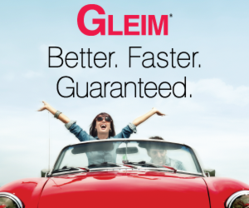 Gleim Has Over 40 Years of Experience Helping Candidates Pass Their Exams!
Gainesville, FL (PRWEB) October 16, 2012
Gleim has recently added a comprehensive bank of questions and answer explanations to the online Gleim RTRP Review System. With the addition of RTRP Question Bank Online, the Gleim RTRP Review System provides the most extensive course to prepare candidates for the RTRP exam. Alternatively, the RTRP Question Bank Online may be purchased separately to suit your individual study needs.
Candidates who have already purchased the RTRP Review System are eligible for full access to this new question bank in their online classroom (no additional purchase is required). Just contact your Personal Counselor at (800) 874-5346 or personalcounselor(at)gleim(dot)com to have the new Gleim RTRP Question Bank Online added today.
Gleim RTRP Question Bank Online is an intuitive, easy-to-use online platform that features over 1,200 true/false and multiple-choice questions that emulate the actual RTRP exam. Candidates can customize their testing experience by creating quizzes with as many or as few questions as they like. In addition, this test preparation tool allows candidates to create either a Study Session or a Test Session. A Study Session gives the candidates the chance to receive immediate feedback (in the form of thorough answer explanations) on their responses. In other words, Study Sessions allow candidates to study as they go. A Test Session provides candidates with the opportunity to work the questions as if they are sitting for the RTRP exam: no answer explanations will be shown until after the session has been graded. In addition, we provide the same links to reference materials that you will see on the actual exam because practice using Publication 17 to research answers is essential. Test Sessions are great for assessing performance on a current topic or getting in some final exam practice before test day.
Another exciting feature of the Gleim RTRP Question Bank Online is the Performance Analysis tool. This online report shows candidates their complete performance history in multiple easy-to-understand formats. Viewing the Performance Analysis after each quiz allows candidates to see their weak areas and determine where more study is needed.
Gleim is here to help you pass! We have an on-site team of accounting experts ready to answer content-related inquiries for all of the questions in the bank. Our Question Feedback service is accessible via a link that is present on every question.
Best of all, the Gleim RTRP Question Bank Online is available anywhere you have online access. It works for both Mac and PC operating systems as well as tablets and smart phones, which allows candidates the most flexible studying possible.
The Gleim RTRP Review System Includes:
*Extensive question bank with thorough answer explanations
*Informative Audiovisual presentations
*Exam-emulating true/false and multiple-choice questions
*Printable outlines with comprehensive coverage of topics and illustrative examples
*A 15-hour package of Continuing Education (CE) Credit to fulfill your annual requirement
*Full-length, timed Practice Exam
*Diagnostic Quiz for initial knowledge assessment
*Knowledgeable Personal Counselor to guide you through your studies
*Efficient Technical Support team
You can try a complimentary demo of the Gleim RTRP Review System here. All you have to do to begin is create an account.
Pass your RTRP Exam today with the Gleim RTRP Review System!
Contact:
(800) 874-5346