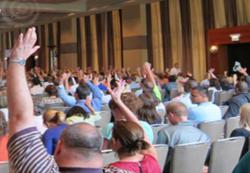 The National Conference on Common Core and College and Career Readiness - June 28-29, 2012 at JW Marriott, Orlando, Florida.
Chicago, IL (PRWEB) October 16, 2012
Today, the Common Core Institute has announced the National Conference on College and Career Readiness and Common Core State Standards. Sold out for the past four years, the national conference attracts attendees from across the U.S. and from more than a dozen countries. At the end of last year's conference, 98% of attendees indicated they would return to our next conference – with larger teams.
Promising increased rigor in the classroom, the new "Common Core" standards have been adopted across the United States. The challenge for school districts is that study after study shows less than 25% of our students are ready – for the new standards, and for the new tests to be introduced in 2014.
Educators will get a first taste of the new Common Core assessments at the upcoming National Conference being held at the JW Marriott Orlando Grande Lakes Resort and Spa on June 28th and 29th. Educators can learn more about the conference and register on the Center for College and Career Readiness Website. A discounted registration is available for a limited time.
In addition to learning more about the upcoming assessments, educators will develop a deep understanding of College and Career Readiness. According to Kevin E. Baird, Chairman at the Institute, the critical issue is how schools approach the standards. States Baird, "If we view the standards as just a new checklist of things to teach, we will fail. To meet College & Career Readiness requirements, we need to get fifth graders reading at today's eighth grade level. The NAEP results indicate more writing is critical. The new assessments require thinking – not just 'knowing'. Accelerating two to three grade levels is more than a challenge – but it is possible."
This year's national event offers an optional pre-conference on June 27 and an agenda that features Common Core Resources Practicum, hands-on sessions. Participants in the national conference will experience presentations from special guests sharing the latest PARCC, SBAC, and STAAR assessment information. A focus on Highest Fidelity Impact Strategies encourages participants to develop and leave with pragmatic "to do tomorrow" tools.
New this year, the Common Core Institute's National Conference will include: a special agenda for Texas Educators and the STAAR exam, a special agenda for school board members, Elementary and Secondary strands across all curriculum areas, and Next Generation Science Standards sessions.
Details for The National Conference on College and Career Readiness and Common Core State Standards
Date: June 28 – June 29, 2013
Location: JW Marriott Orlando Grande Lakes Resort and Spa Orlando, FL
Register at: http://www.collegecareer.org/Conference_Cost.aspx
Contact: Lauren Zake at 800.318.4555
About The Common Core Institute
The Common Core Institute is a leading research, training and consulting organization working to help schools, districts and states implement the new Common Core Standards. Co-authors of the National Pathway for Common Core Standards implementation, the Institute's senior faculty work directly with the authors of the new standards as well as with Assessment Consortia and publishers. The Institute is dedicated to practical classroom practices which allow teachers to implement the standards effectively.
Educating Communities
The Common Core Institute and its partner, the non-profit Center for College & Career Readiness, provide no and low-cost educational sessions for community leaders, journalists, foundations and parent groups.