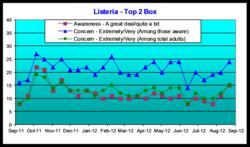 The impact of a food recall on consumer attitudes and perceptions often depends on the amount of news coverage received, or the severity of the situation in terms of numbers sickened or dead as a result," says Darren Seifer, NPD food and beverage industry
Chicago, IL (PRWEB) October 16, 2012
Even with frequent food safety outbreaks and recalls, concern levels about the safety of the U.S. food supply remain relatively constant with temporary spikes when news of an outbreak occurs, according to The NPD Group, a leading market research firm. NPD's Food Safety Monitor, which continually tracks consumer awareness and concern about food safety issues, shows that for the period from January through August 2012, on average, 60 percent of U.S. consumers were somewhat or slightly concerned about the safety of the U.S. food supply, 25 percent were extremely or very concerned, and 15 percent not concerned at all. The food safety concern levels in 2012 are on par with previous years.
On a bi-weekly basis, when the Food Safety Monitor survey is conducted, there are fluctuations in the percentages of consumers who are not or are concerned about the safety of the U.S. food supply based on whether or not there is a food safety issue in the news, but the annual averages remain relatively constant.
There are also spikes and then a leveling off with specific food safety outbreaks, according to NPD. For example, this past summer, in July and August, there were outbreaks and product recalls involving listeria contamination. Awareness of and concern about listeria peaked during the time the outbreaks were widely reported and then leveled off when the news subsided.
"The impact of a food recall on consumer attitudes and perceptions often depends on the amount of news coverage received, or the severity of the situation in terms of numbers sickened or dead as a result," says Darren Seifer, NPD food and beverage industry analyst. "Recalls, unfortunately, have become more commonplace, but consumers are creatures of habit. It takes a lot for us to change what we eat."
-30-
Food Safety Monitor Methodology
The NPD Group Food Safety Monitor tracks consumer awareness and concern about food safety issues including salmonella, e coli, mad cow disease, foot and mouth disease, acrylamide, trans fats, mercury in fish, avian bird flu and listeria. Consumers are also surveyed about their eating intentions of foods including fast food burgers, chicken, ham, steak, fish/seafood, breakfast cereals, butter, milk, cookies and more. Every other week a U.S. representative sample of approximately 500 adults are asked a series of questions related to food safety, and NPD then issues the results in its monthly Food Safety Monitor. Since November 2007, the Food Safety Monitor survey includes this question: "How concerned are you about the safety of the U.S. food supply?"
About The NPD Group, Inc.
The NPD Group is the leading provider of reliable and comprehensive consumer and retail information for a wide range of industries. Today, more than 2,000 manufacturers, retailers, and service companies rely on NPD to help them drive critical business decisions at the global, national, and local market levels. NPD helps our clients to identify new business opportunities and guide product development, marketing, sales, merchandising, and other functions. Information is available for the following industry sectors: automotive, beauty, entertainment, fashion, food, home and office, sports, technology, toys, video games, and wireless. For more information, contact us, visit http://www.npd.com/, or follow us on Twitter at https://twitter.com/npdgroup.