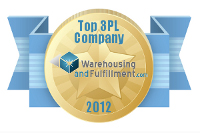 . . .our focus is always on the client and it's very rewarding when someone from the outside recognizes that
Salamanca, NY (PRWEB) October 16, 2012
Adeptiv Solutions has been awarded the 2012 Top 3PL Company Award for superior service and order accuracy for e-commerce fulfillment services. Will Schneider, founder and CEO of WarehousingAndFulfillment.com recently presented this distinction to Adeptiv Solutions for their many achievements and consistent performance. In the United States every year, a handful of great companies are given this award for exemplary achievement in order processing, on-point and on-time shipping as well as outstanding customer service. Companies are meticulously analyzed with regard to their service towards the small and mid-sized business.
In designating this award, there is a major focus on many aspects that include order picking correctness, percentage of on-time shipments, stability of customers, customer reference assessments, degree of technology executed, development of procedures, aggressiveness of fulfillment pricing, and any other considerable factors. Schneider stated, "Adeptiv Solutions scored high across the board in all departments. They're particularly successful not only because they provide top notch customer service but also because of the breadth of services offered – from e-commerce fulfillment integration to call center solutions. This is a well deserved accomplishment for a high performing company," Schneider noted.
Full scale outsourced fulfillment and call center solutions are in high demand, as companies look for ways to reduce costs and focus their internal efforts. However, many companies that offer both fulfillment and call center solutions under one roof don't operate at the highest of levels in both distinct areas. In fact, it's common to see companies that do a really great job at one but not the other. That's what further separates Adeptiv Solutions – they're phenomenal at both divergent service offerings.
Mark Chandley, President of Adeptiv Solutions, commented on his company winning the Top 3PL Company award. "At Adeptiv Solutions, our focus is always on the client and it's very rewarding when someone from the outside recognizes that" said Mark Chandley, CEO of Adeptiv Solutions. "From our quality processes to our client centric OPTMIZE Process we have designed our business to make it very easy for our clients to do business with us and for their customers to receive outstanding service."
Adeptiv Solutions offers full scale e-commerce fulfillment and call center solutions. Using its client centric OPTIMIZE Process, the company is able to integrate with a multitude of e-commerce shopping carts seamlessly and cost effectively, helping companies maximize return on investment with outsourced services.
http://www.AdeptivSolutions.com
WarehosuingAndFulfillment.com is the leading resource for warehousing and fulfillment quotes, connecting businesses with pre-screened warehousing and fulfillment companies that can meet their specific outsourced fulfillment needs.
http://www.WarehousingAndFulfillment.com