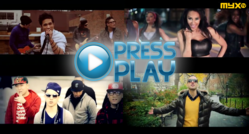 We continue to grow week after week as we launch these artists online and once their music gets played on national television, their raw talent will capture the hearts of America.
Redwood City, CA (PRWEB) October 15, 2012
With nearly two dozen independent music artists already introduced, Myx TV's Press Play ups the ante with nine more acts from Seattle, Pennsylvania, Canada, New York, Hawai'i, and California. Vying for the stage on Press Play's third episode, the artists bring their hottest original hits and music videos to the online polls. Based on total fan votes, the winner's original music video will get premiered and played on the nationwide cable channel. The music act will also perform at the Myx TV studios in California. The polls are open from October 15 til October 22, 12pm pacific time on Myx TV and the winner will headline the episode that airs on November 16.
This week, artist Tripple Los of Hawai'i sends aloha with his hip hop music that speaks positive messages. Check out his single "You and I," performed with Kaipo Kapua and Papa T. Three friends from California's Sweetwater High came together to make music and formed StylesStinch, a San Diego-based hip hop and R&B group that debuts their single "Summer Love." DJ and hip hop artist Azuré represents Oakland with "As the Globe Spins."
Hip hop and R&B act Onfire Ent of Seattle launches a music video for their single, "Dreams." The group has opened up for artists like Far East Movement, Marques Houston, Ryan Leslie, The Dream, Cassie, Colby O Donis, The Game, Eve, Rich Boy, and Lupe Fiasco.
Ever wondered what "Ladies Night" is all about? Let Tia Ferrera take you along. No stranger to the entertainment world, the Sacramento-based artist has opened up for Goapele, Miguel, John West and Anthony David. "Music is universal. It touches hearts and minds. I bring that sort of energy to every performance and every track," said Ferrera.
Myx TV's Press Play has dug deep into the world of YouTube where dreams are created and the stage is big enough for everyone. For many musicians like Raiel, it was life-altering. From tinkering around with the drums and guitar, to dabbling into editing and recording at his Vancouver home studio, his music has taken him to shows in Montreal where he has performed hits like his single "Angel" ft. Shad.
Such was the journey of Seattle's Lions Ambition whose track, "Memories" showcases their rock and hip hop sound. The self-managing, self-producing musicians have seen audiences grown from 7 to 10,000. "We understand the value of sacrifice on the road and in every show, play with the same intensity and passion."
14-year old country singer Leah Burkey had her life's revelation when she met Taylor Swift and decided that she was going to be a country music star. Having performed her thoughtfully written music on stages from her hometown in York, Pennsylvania to Nashville, Tennessee, she now brings "The Game" to Myx TV.
New York closes the line up with "Long Way Home" by Maor ft. T.R.I.G.G.A. The hip hop electronic artists say that, "Our goal is to combine those life living emotions you feel with real lyrics and bring it to the dance floor. Our pop/electro sound makes you move leaving everything to the beat and sound." Maor hails from a jazz formal singing back ground while T.R.I.G.G.A comes from original hip hop roots and writing. Together, the up-tempo sound and international style make for a sure showstopper.
"We continue to grow week after week as we launch these artists online," said Anthony Garcia, Head of Production for Myx TV. "And once their music gets played on national television, their raw talent will capture the hearts of America."
Vote for your favorite artists on Myx TV where you decide who gets played! Log onto http://www.myx.tv for more details.
##
ABOUT Myx TV®:
Myx TV is the premier Asian American entertainment and lifestyle cable network in the United States. Dedicated to airing the best in entertainment, Myx TV's programming is a unique combination of original and syndicated shows, including magazine talk shows, interactive music video countdowns, independent film and Asian cinema, and animation, airing 24/7 in English. Broadcast in over 10 million households across the country it provides a platform for Asian Americans on mainstream television and is also represented on its official website by a community of bloggers from coast-to-coast. To find Myx TV in your area and for exclusive content online, visit http://www.myx.tv.