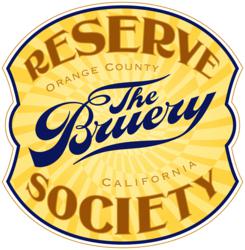 Joining the Reserve Society is the only way to enjoy certain creations by The Bruery such as Grey Monday, a bourbon barrel aged imperial stout with hazelnuts.
Placentia, CA (PRWEB) October 16, 2012
On October 25th at 10am, Orange County's The Bruery will open up their Reserve Society beer club to new members for 2013, giving a small group of people the opportunity to obtain some of their most esoteric and elusive beers such as the 19% abv bourbon barrel aged imperial stout known infamously as Black Tuesday. Sales will be run online through society.thebruery.com and will surely go fast.
The Bruery has been fashioning experimental ales in the Belgian tradition since mid 2008 and through recent expansion, a continued dedication to barrel aging and several World Beer Cup and Great American Beer Festival medals they have established quite a name for themselves within the craft beer community. Not touting a flagship ale, The Bruery is better known for their limited edition, unique and flavorful barrel aged beers that can range from sour to fruit forward to smokey to dark and viscous. They recently returned from Denver's Great American Beer Festival with two new medals for their wall, one for Sans Pagaie, a sour cherry beer and another for Papier, the first in their line of anniversary ales.
While their distribution has increased and beers such as their Flanders-style sour red ale, Oude Tart, can now be found in craft beer stores throughout the nation, The Bruery always has something new up their sleeves. Included in the 2013 Reserve Society membership initial package is a bottle of Chocolate Rain, a nearly 20% abv stout that has been aged in used bourbon barrels with cacao nibs and vanilla beans. The list also promises an offering of their Sour in the Rye spiked with fresh kumquats, a barrel aged blueberry sour ale and a barrel aged English barley wine with coffee beans from Portola Coffee. These, among others, will be offered exclusively to members of the Society.
The price to join is $295 and includes 10 bottles of beer plus exclusive merchandise in return. Throughout the year, members receive a 15% discount on any Bruery beer or merchandise purchases either online or through their Tasting Room in Placentia or Provisions shop in Orange and for the first time in 2013, they will be offering an option to have your beers shipped right to your doorstep, assuming you live within California.
Full details on the 2013 offerings can be seen on their website at http://www.thebruery.com/reservesociety
Last year The Bruery sold out 1,000 spots within just a couple of days and membership is capped at 1,500 for this coming year, so make sure you act fast if you want to get your hands on these epic offerings. Mark your calendars for October 25th.