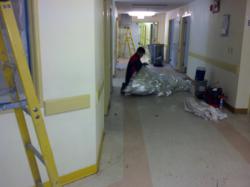 As the largest domestic violence shelter in the United States, Sojourner Center provides services to more than 2,000 women and children each year.
Phoenix, Ariz (PRWEB) October 15, 2012
HomeAid America's New Program, HomeAid on Wheels (HOW), was recently launched by Founding sponsorships from Newland Communities and Cisco Corporation. Sojourner Center's Hope Campus in Phoenix received a major green retrofit thanks to funding from the Walmart Foundation and support from Owens Corning, MASCO Corporate Foundation and Shea Homes.
The renovations, which will save Sojourner more than $18,000 a year on electricity bills, were made possible through HomeAid America's Environmental Sustainability Program. The savings will allow the shelter to open more beds and provide additional help to women and children in need. As the largest domestic violence shelter in the United States, Sojourner Center provides services to more than 2,000 women and children each year.
Sojourner Center's energy retrofit included upgrades to outdated lighting and inefficient building components. These improvements were made possible thanks to substantial donations of labor and materials by Shea Homes and its trade partners, including heavily discounted labor and materials by: Haskins Electric, Chas Roberts Heating and Air Conditioning, Brewer Plumbing, Mesa Insulation, and supervisor Chuck Adair.
HomeAid America is the nation's largest provider of temporary housing for the homeless and its HOW program provides a vehicle for HomeAid to expand its reach by assisting nonprofits in communities not served by a local HomeAid chapter through the construction and renovation of existing shelters.
The completion of work comes in conjunction with Sojourner Center's observation of October's Domestic Violence Awareness Month which evolved from the first Day of Unity observed in October, 1981 by the National Coalition Against Domestic Violence. The intent was to connect battered women advocates across the nation who were working to end violence against women and their children.
About HomeAid America
HomeAid is a leading national non-profit provider of housing for homeless families and individuals. Through the generosity of builders, their trades and their suppliers, HomeAid has completed 280 housing projects nationwide at a cost of more than $178 million, of which nearly fifty percent has been donated by the building industry. HomeAid currently has 40 additional projects in development. HomeAid's facilities offer 2,200,000 bed-nights annually through HomeAid's network of 18 active chapters in 12 states. For more information about HomeAid, call 1-888-3HOMEAID or visit http://www.homeaid.org.
About Newland Real Estate Group, LLC.
Newland is a diversified real estate company leveraging a national platform and over 40 years of experience to perform challenging and diverse development, investment, management, and advisory services across a wide range of real estate. The company's mixed-use development business, Newland Communities, actively owns, operates and develops premier residential master-planned, commercial, retail, and urban mixed-use real estate across the U.S. Headquartered in San Diego, Calif., Newland and its affiliated companies have completed, or have underway, more than 140 diverse real estate developments, more than 20 million square feet of commercial and retail space, and 175,000 residential units in 14 states. For more information, please visit http://www.newlandcommunities.com.
About Shea Homes
Shea Homes, an independent member of the Shea family of companies, is the oldest and largest family-owned homebuilder in the United States. Shea Homes builds new homes in California, Arizona, Nevada, Colorado, Washington, North Carolina and Florida. With choices to suit homeowners in every stage of life, Shea Homes offers new homes ranging from affordably priced condominiums and townhomes to traditional single-family detached homes and magnificent luxury residences. Shea Homes is proud to be named a J.D. Power 2012 Customer Service Champion and is only one of 50 companies so named in the U.S. For more information about Shea Homes and its communities, please visit the company's website at http://www.SheaHomes.com.
About Sojourner Center
Sojourner Center is the largest domestic violence shelter in the U.S., and has provided shelter and support services to tens of thousands of women and children affected by domestic violence since 1977. What began as a one-house, 28-bed operation now comprises two campuses, 144 beds, and 32 transitional apartments; and offers emergency shelter and transitional living for nearly 2,000 women and children each year.
More than a crisis shelter, Sojourner Center offers a transformational program based on an "empowerment model" that attributes domestic violence to an imbalance of power within relationships. Empowerment allows women to move forward with positive choices for themselves and their children, breaking the cycle of domestic violence, and fostering healthy, violence-free relationships. To learn more please visit http://www.sojournercenter.org.
###
Media Contact: Amber Liptai, Martz Agency 480-998-3154 aliptai(at)martzagency(dot)com