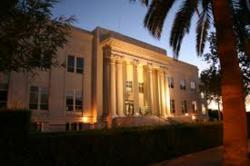 The judge was visibly upset when Mr Merritt presented him with his second motion for recusal and instead of accepting it the judge postponed the hearing until November 30. According to one of the witnesses, Daniel Fihn of San Jose.
San Jose, CA (PRWEB) October 17, 2012
Friday, Oct. 12, 2012, Judge James L. Stoelker refused to recuse himself from Merritt v. Countrywide Home Loans, et al, 109CV159993, after he became officially disqualified on August 27, 2012, per California Code (CCP) section 170.3(c)(3) and 170.3(c)(4).
On August 17, 2012, Plaintiffs David Merritt with his wife filed in open court "Statement of Disqualification" against Judge Stoelker after learning that the Judge had been on the payroll of Countrywide Home Loans and First American Title Company for over two-decades as their legal counsel handling litigation and other legal matters. In court documents filed on this day, the Merritts' allege that the Judge's failure to disclose that Countrywide was a former client was particularly deceptive and egregious because he had intentionally hidden this fact from them for the past eight months, while at the same time, court documents reflect, that the Judge always ruled in Countrywide's favor, "when there was no basis in law," the Merritts' court pleadings alleges.
According to CCP section 170.3(c)(3), any time a Judge receives a Statement of Disqualification, they have no more than 10 days to file an Answer if they wish to stay on the case. This law further mandates that failure for a Judge to answer before the tenth day is automatic disqualification and recusal from the case.
According to Santa Clara Superior Court Docket Sheet of all the documents filed in the Merritts' case, on August 27, 2012, Judge Stoelker failed to meet the ten-day dead line for filing his answer to their Statement of Disqualification, and became in default. This same docket sheet revels that neither the Clerk of the Court nor the Presiding Judge Loftus applied CCP section 170.3(c)(4) by replacing Stoelker with a Judge who did not work for Countrywide or Bank of America.
On October 12, 2012, David Merritt appeared before Judge Stoelker and the California Court of Appeal's, after the Judge refused to accept his recusal and step down from the case. According to Judge Stoelker's October 11, 2012 Tentative Order, he again sided with Countrywide Defendants by denying the Merritts' motion for protection from assaulting Bank of America James Goldberg, and granting the Defendants requests' to exclude the entire public from future depositions, even while acknowledging that Bank of America's lawyer James Goldberg "acted inappropriately."
On October 5, 2012, the Merritts' received a notice from the Superior Court's Clerk which notified them that their Statement of Disqualification was forwarded to Santa Cruz Judge Timothy Volkmann, who failed to take notice of Stoelker's default and ruled that Stoelker did not have to be disqualified because his employment with the Countrywide Defendants was more than two-years ago.
Learning of this, David Merritt filed a Motion for Reconsideration of Stoelker's refusal to step down and later filed a Petition for Writ of Mandamus with the California Court of Appeal's Sixth District, entitled Merritt v. Superior Court, H038883. Both documents allege that since CCP section 170.3(c)(4) is a mandatory and self-enforcing law, that the presiding Judge was obligated to replace Stoelker without further input from the Merritts' and Judge Volkmann failure to recognize the time default worsened the problem.
After receiving the October 11, 2012, Judge Stoelker postponed his orders on five discovery motions until November 30, 2012, to give presiding Judge Richard Loftus time to rule on the Merritts' Motion for Reconsideration of Santa Cruz Judge Timothy Volkmann denial of their August 17, 2012 Statement of Disqualification. Calls made to the Sixth District Court of Appeal's would not issue any comment on the Petition for Writ of Mandamus other than that the Merritts' Petition has been forwarded to the Justices for review and determination.
Local citizens involved in Santa Clara "Court Watch" and Occupy San Jose, Owen Thaxton, Daniel Fihn, Spencer Graves, among others, witnessed the events from Judge Stoelker's court room and independently confirm that a Clerk Supervisor admitted to them that there was an error made on the part of the Court of Clerk and presiding Judge Loftus', in that once Judge Stoelker failed to answer the Merritts' disqualification notice, that staff should have automatically began procedures for replacing him with a non-bias Judge.