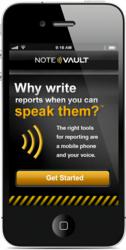 "NoteVault is a proud founding member of the Construction Open Software Alliance and we are looking forward to contributing to the standardization of daily construction reports." - Peter Lasensky, (NoteVault President and Founder).
San Diego, CA (PRWEB) October 17, 2012
Recently, at the IT Forum Conference in Chicago, the COSA initiative was announced. The goals of this project are to create a standard schema for documents in all fields of construction resulting in an easier way to share information. This would solve, what is considered to be, a major problem for companies using software systems, lack of interoperability. Information from one part of a project could be useful to another sector, for example: information from an architect could be useful to an electrician working on the same project. Other examples of such documents include owner/contractor agreements, schedules of values, requests for information (RFIs), requests for proposals (RFPs), etc. At the IT Forum Conference, Benham, the founder and president of JB Knowledge Technologies, Inc., stated that "in order to impact change, users must demand integration, participate in the standard and try cloud integrated software".
About NoteVault:
NoteVault provides innovative voice-to-text-based mobile reporting solutions for the commercial construction industry. NoteVault enables superintendents to quickly and easily report project activity from the field using nothing but their voice and their mobile phone. This information is transcribed and made available through email or a web-based interface. NoteVault saves contractors time and money, while protecting against potential lawsuits. For more information, please visit http://www.notevault.com.
About COSA:
The Construction Open Software Alliance is a community of software developers and providers who support an open standard in construction software applications, in order to provide the most useful, integrated solutions to the end-user. More information on COSA can be found at http://www.constructionosa.org.
NoteVault and the stylized logo are registered in the US Patent & Trademark Office. All other product or service names are the property of their respective owners. © 2012 NoteVault, Inc.. All rights reserved.