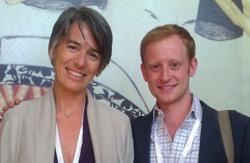 FanAxcess powered by Next Big Sound is a sleek, effortless and cost-efficient tool for advertising and promotion agencies to search across the entire music industry...Nothing like this exists." Joan Martin, CEO and Founder
SAN FRANCISCO,CA and NEW YORK,NY (PRWEB) October 16, 2012
FanAxcess and Next Big Sound today announced the signing of a strategic agreement whereby Next Big Sound will power FanAxcess with over 300,000 musicians and bands' in-depth profiles including social network, music sales, touring and fan-base statistics. With this critical mass of artist data, available in real-time, starting November 1, 2012, FanAxcess will sell search licenses to advertising and promotion agencies as well as directly to brands that seek to quickly discover music and artists for their campaigns.
"FanAxcess powered by Next Big Sound" is a patent-pending, software as a service platform that enables advertising, promotions, television, film and music marketers to pinpoint the musical match for their project's customer demographic needs.
Says CEO and Founder Joan Martin, "FanAxcess powered by Next Big Sound is a sleek, effortless and cost-efficient tool for advertising and promotion agencies to search across the entire music industry, with specific parameters like music genre or fan base age & demographics and find artist and music ideas instantly. Nothing like this exists."
Co-Founder Suzanne Koga adds, "It is our continued intention to bring back Money to Music and FanAxcess powered by Next Big Sound can do just that. Artists that might not otherwise know how to interface with advertising agencies and brands will now be connected."
Facts:

Artists who currently have Next Big Sound accounts will be included in the FanAxcess powered by Next Big Sound platform for immediate exposure to advertising agencies. Other artists can create a free Next Big Sound account to become FanAxcess-ible.
With its sleek design and simple search, FanAxcess powered by Next Big Sound brings an artist discovery tool to ad agencies and brands where one currently does not exist.
FanAxcess plans to sell FanAxcess powered by Next Big Sound software licenses to ad agencies and brands starting November 1, 2012.
The new music discovery tool integrates search, data analytics, fan monetization and artist due diligence in one place reducing friction for artists and brands.
Music sponsorship is an $18B industry (source IEG LLC). Music, tours, arts and festivals get 20% of sponsorship money. By comparison, sports gets 68% (i.e., NFL, NHL, NBA, etc). FanAxcess powered by Next Big Sound has the intention of creating new opportunities for musicians.
Supporting Resources

About Next Big Sound
Next Big Sound measures daily music consumption and purchase decisions around the globe, and makes it all available in a single dashboard. From Facebook fans to physical sales, Next Big Sound combines artist metrics with context to inform decisions in the modern music industry. Next Big Sound tracks more data for more bands online than anyone else in the world.
About FanAxcess
FanAxcess is an online, patent-pending technology search platform with a comprehensive database of musicians and bands for search and instant results. Choosing from general parameters such as music genre, fan base demographics (age, gender mix), social media or music sales stats, those who need to discover relevant artists and music can do so with this easy, web-based, subscription tool.
Contact Info
Bibi Green
1-510-686-3267
Info@FanAxcess.com