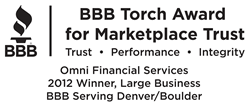 My belief is that this award will light the way for a new era in Tax Resolution and Omni Financial will lead the way
Denver, CO (PRWEB) October 18, 2012
Today, at the Hyatt Regency Convention Center Hotel in Denver, the BBB of Denver/Boulder and the BBB Foundation announced the winners of its tenth annual Torch Awards for Marketplace Trust.
The BBB Foundation named Omni Financial the WINNER of the 2012 Torch Award for Marketplace Ethics and Trust in the Large Business Category. Located in Broomfield, Colorado the company has been in business for over 25 years and employs over 150 people in the local area. In this 100th Year of the BBB and this 10th Year of the Torch Award, Omni Financial could not be more honored. At the awards luncheon, Michael Hancock, the mayor of Denver, spoke about the state of the economy in Denver and Colorado along with how business ethics play a role.
Each organization went through a meticulous application process to illustrate its commitment to ethical business practices and community leadership. The winners were each closely evaluated and chosen by an independent panel of judges. The judges looked at each applicant's ethical standards and practices, long-standing reputation, marketing, advertising, management practices and training programs through an "above-and-beyond" microscope.
"Our industry has gotten a black eye because of businesses that weren't being ethical," said Scott Kaplan, General Manager, when accepting the award. "As we continue to walk down this path, we hope everyone will follow."
Upon receiving the news that Omni Financial won, Scott Kaplan spoke about the great team that Omni Financial has and how their clients and their struggles both inspire and humble him on a daily basis. He also issued a statement to employees shortly after.
"Every morning, our clients wake up and go to work at their businesses while facing incredible odds in fighting the taxing authorities. We always say that they are dealing with The American Dream that became The American Nightmare. A bad day for us pales in comparison to a bad day for them. We should all feel grateful for the opportunity to help them and we should all feel obligated to make each and every client, especially the difficult ones, feel that the best choice they ever made for their company was hiring Omni Financial."
Kaplan also spoke briefly about the state of the Tax Resolution industry. With all the negative press generated from the dissolution of tax companies such as American Tax Relief, JK Harris, and Tax Masters to name a few, the Tax Resolution industry has had a tough year. "My belief is that this Torch Award will light the way for a new era in tax resolution and Omni Financial will lead the way to that new era. We have been honored by this award and now we have an even higher standard to live up to and a greater obligation to our core values… PROFESSIONALISM, INTEGRITY, TEAMWORK, EXCELLENCE, ATTITUDE, and DISCIPLINE".
Omni Financial had been nominated for the Better Business Bureau Torch Award for the last 3 years, and finally broke through to win in 2012.
What is the BBB Torch Award?
In 2003, the Denver/Boulder BBB Foundation began honoring businesses with the BBB Torch Award for Marketplace Trust. In 2009, the competition evolved to offer the Torch Award to not just one business but to a large business, a small business and a nonprofit organization. The award is a tribute to those who exemplify an outstanding commitment to fair, honest, and ethical practices. The Torch Award illuminates the importance of trust within all types of trade and philanthropy.
The Torch Awards are open to all for-profit and nonprofit organizations located within the BBB Serving Denver/Boulder service area. Businesses need to have been in business for at least three years and have a minimum BBB rating of B. Accreditation with the BBB is not a requirement. For small and large businesses to compete, they must submit an extensive application that demonstrates their commitment to ethics and excellence relating to the following four criteria:
1. Management practices
2. Community/Investors/Stakeholder Relations
3. Communications and Marketing Practices
4. Industry Reputation
To learn more about Omni Financial and the services they offer to businesses and individuals who owe back taxes, please visit their website at http://www.omni-financial.com.