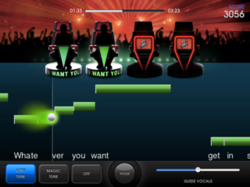 "We're now empowering fans of The Voice to play along at home and feel like a diva or a rock star." -Jeff Daniel
San Francisco, CA (PRWEB) October 16, 2012
Over the past two years, The Voice has revolutionized the singing competition genre and has set the bar for social/digital integration. Now the groundbreaking TV program - airing in 160 countries this Fall - is increasing its stake in the mobile arena by teaming with music game developer StarMaker Interactive to let The Voice's vast worldwide audience in on the fun, the fame and the competition.
The Voice: On Stage, a mobile singing game released today in the App Store, lets aspiring stars and armchair divas alike record their own vocals to songs from The Voice. Users are scored on the accuracy of their singing and can share their personalized recordings with friends or vie for votes on StarMaker's online community. The app puts the show's most popular segments in fans' pockets. Users can sing in Blind Auditions to see how many of the coaches' chairs they can turn, or challenge friends to a Battle, competing head-to-head while recording a duet.
The Voice: On Stage includes real Auto-Tune voice effects, as StarMaker continues to be the only game developer on the iOS platform with genuine Auto-Tune.
"The Voice has reinvented TV singing competitions by adding deep game mechanics to the format," said StarMaker co-founder and CEO Jeff Daniel. "We're now empowering fans of The Voice to play along at home and feel like a diva or a rock star. We're thrilled to work with The Voice to extend their format onto the mobile stage."
The Voice: On Stage is a free download for iPhone, iPad and iPod Touch and is currently available in the App Store: http://bit.ly/SWZgZw
For more information, contact:
StarMaker PR contact:
Katrina Krantz
katrina(dot)krantz(at)starmakerinteractive(dot)com
About StarMaker:
StarMaker is a San Francisco-based music games developer and publisher with 5 titles on the iOS platform. StarMaker is the #1 singing game in the App Store and has been installed onto more than 4 million iOS devices. Founded in 2010, StarMaker has created singing experiences in partnership with American Idol, The Voice, Disney, Universal Pictures, and Philips Electronics.