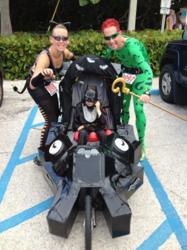 You are never too young - or too old - to dress up and have fun!
Albuquerque, New Mexico (PRWEB) October 16, 2012
To enter the Family Voices costume contest, visit http://www.surveymonkey.com/s/FVcostumecontest.
A $100 Target gift card will be awarded to the winner in each of three age categories:
0 – 7 years old, 8 – 14 years old, 15 – 21 years old.
Judging criteria will include:

Creativity/originality of the costume
Craftsmanship or handiwork
How engaging, charming, or meaningful the costume is
Overall appreciation for this costume on this child
The judges will include
2 – 3 family leaders from different parts of the United States,
2 – 3 youth with special health care needs, and
2 – 3 members of the Family Voices staff representing diverse cultural backgrounds.
Need some inspiration?
Visit http://www.huffingtonpost.com/2012/10/01/best-halloween-costume-wheelchair-special-needs-buster-ice-cream-truck_n_1928714.html
(scroll down to see a gallery of photos of all kinds of kids in costume)
or
http://www.christopherreeve.org/site/c.mtKZKgMWKwG/b.6341705/k.A2BA/Halloween_Costumes_for_People_Using_a_Wheelchair.htm