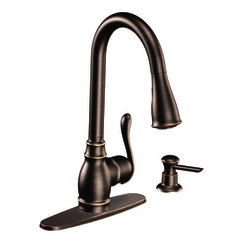 When home shoppers were asked if they would be willing to pay more for a home that includes brand name faucets, we found 46 percent of shoppers answered in the affirmative," said Lifestory Research President and CEO Eric Snider.
Newport Beach, Calif. (PRWEB) October 17, 2012
New-home shoppers say certain faucet brands are among the features that can influence their decision to purchase one residence over another, according to research results released today. In a first-of-its-kind study, Lifestory Research polled 9,565 households nationwide, examining how different product classifications and brands influence the buying behaviors of people shopping for a new home.
According to the Lifestory Research 2012 Residential New Home Shopper Brand Study SM, nearly half of the home shoppers who participated in the survey indicated faucet brands impact how they evaluate the purchase of a home.
"When home shoppers were asked if they would be willing to pay more for a home that includes brand name faucets, we found 46 percent of shoppers answered in the affirmative," said Lifestory Research President and CEO Eric Snider. "At the same time, we uncovered that about half of home shoppers would be willing to purchase a home in which the home included brand-name faucets they had never heard of before. It seems that for many, the faucet brand is not a critical part of the home-purchase process, however, those who are sensitive to faucet brands are willing to pay more for the inclusion of brand-name faucets."
In a shift away from product usage and satisfaction research, Lifestory Research is the first to investigate the role brands play in the purchase of a new home. Consumer attitudes were analyzed across several product classifications, including faucets. Shoppers evaluated 27 faucet brands along four dimensions: brand awareness, perceptions of quality, importance of brand and impression of brand.
"Home buying is a complicated decision process that requires the assessment of several features and benefits included in a home purchase," said Snider. "Typically, people will seek homes that are in specific locations, are a certain size and include a minimum number of bedrooms or bathrooms. But our research proves shoppers also take note of the brand name products that are included in the home and that brands have a direct impact on the purchase decision. The goal of tracking these brands is to provide insight into this piece of the decision-making process."
New-home shoppers' perceptions of faucet brands averaged 89 on a 400 point scale. Moen ranked the highest on the brand index with a score of 227. Following Moen in the rankings are Kohler (219) Delta (184), Price Pfister (157), American Standard (136), Hansgrohe (107), Peerless (91), Brizo (87), Grohe (86), Belle (80), Bach (80), Sterling (74), Porcher (72), Brasstech (71), Chicago (71), Briggs (70), Danze (70), Symmons (69), Eljer (66), Blanco (65), Nibco (64), Hastings (59), Franke (54), Elkay (53), Gerber (47), and Ondine (44).
Study results show that consumers' top-of-mind (unaided) recall was relatively low overall for the product class, with only five of the brands being recalled without any prompts. That is, when consumers were asked in an open-end format to share the faucet brands that come to mind, only Moen (59 percent), Kohler (46 percent), Delta (44 percent), Price Pfister (31 percent), and American Standard (21 percent) had recall among consumers exceeding 20 percent. The principal of "top-of-mind" recall is that brands that are easily recalled have greater propensities to capture market share since consumers actively can recall the brand. We also found that even when home shoppers were given the brand names of the faucets tested, again, only five brands stood out in this product class. When consumers were asked which faucet brands they have seen or heard of, the brands of Kohler (88 percent), Delta (82 percent), Moen (81 percent), American Standard (73 percent), and Price Pfister (65 percent) emerged as the most well-known brands within the faucet product class.
In this study, Lifestory Research also found that quality ratings were not influenced by brand awareness. While some brands such as Moen (45.6) and Kohler (45.6) received high marks for both quality and brand awareness, other brands had very low brand awareness but registered high quality ratings, such as Hansgrohe (55.9), Belle (43.0), and Brizo (41.4). This is not a common finding in brand research. Typically, there is a relationship between the awareness of a brand and the perceptions consumers hold in regard to the quality of the brand. Brands with high awareness often are found to also be perceived as high-quality products.
About Lifestory Research
Headquartered in Newport Beach, Calif., Lifestory Research is a custom marketing research firm dedicated to helping clients evaluate their brand and strengthen their understanding of their customers. The Lifestory Research team has designed and executed qualitative, quantitative and observational solutions while adhering to a client-focused ethic built on being easy to work with and delivering best-in-class insight. The company's core competency is measuring attitudes and behaviors to accurately explain and predict bottom line impact of a client's actions. Offerings include market entry studies, segmentation studies, product development studies, branding studies, customer satisfaction and employee satisfaction research, pricing strategy and advertising studies. Lifestory's client base spans private education, real estate, energy, financial services, medical providers and not-for-profit organizations. http://www.lifestoryresearch.com
No advertising or other promotional use can be made of the information in this release without the express prior written consent of Lifestory Research.