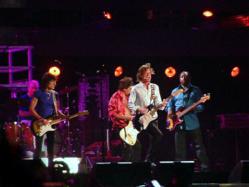 There can never be a group like them again - so relive their greatest hits and the greatest years of your life!
New York, NY (PRWEB) October 15, 2012
Presales for The Rolling Stones in Newark NJ at the Prudential Center begin on Saturday, October 20th. Mick Jagger, Keith Richards, Charlie Watts and Ronnie Wood – who would not know these people? Of course, they are the musicians who complete the band named The Rolling Stones. Cheap Concert Tickets is offering an exclusive customer appreciation code, STONES, for additional savings.
True music lovers, particularly the rock and roll genre, will definitely know who the real artists/musicians are. The Rolling Stones are one of these true musical groups. The band has rocked the music world for five decades and even if they have aged, they still have what it takes to rock the World. In fact, on their 50th anniversary, the band has planned a series of shows. As of now, the two venues which have been booked are the O2 in London and the Prudential Center in Newark.
Fans of this legendary rock band can expect an energetic and high quality concert. Those living in England will be among the first to taste the rock and roll brand of the Rolling Stones in November with two concerts . After that, the United States will be the next to have a glimpse of the band.
As of now, the concert and gigs in Newark NJ and in London are confirmed and fans can expect great shows in these citieas. Band members have hinted that there may be more shows on the horizon, however, its anyones guess as to where they will be.
Aside from the tour and concerts, diehard Rolling Stones fans can find out more about them from other plans on their anniversary. A full documentary on the group entitled "Crossfire Hurricane" will be aired on HBO. It will be shown on the 15th of November this year.
More importantly, The Rolling Stone's greatest hits collection (that is new, of course) will also be released by the 13th of November. Fans can also read about the book entitled "The Rolling Stones 50" and look at the glossy pages and photographs as they reminisce about the band's early years. Fifty fantastic years indeed.
If you grew up with the Rolling Stones, the 50th anniversary celebrations are something that you should look forward to seeing. There can never be a group like them again - so relive their greatest hits and the greatest years of your life!
About CheapConcertTickets.me:
CheapConcertTickets.me delivers tickets to sold out concerts and events worldwide when no one else can, and they do so at discounted prices. As a member of TicketNetworkDirect, they can guarantee the delivery of tickets on time for sporting events, NASCAR, NBA, NFL, and NHL, and for The Rolling Stones at the Prudential Center. With CheapConcertTickets.me customer service is a priority, for more information email support(at)cheapconcerttickets(dot)me.