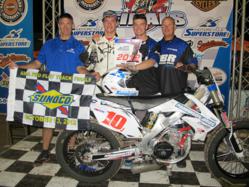 "Motorcycle-Superstore.com would like to think all the AMA Pro Racing athletes and the AMA Pro staff for a great year of racing." -Tim Clark
Medford, OR (PRWEB) October 16, 2012
The final round of the 2012 AMA Pro Motorcycle-Superstore.com Pro Singles series came to a close on Saturday night and when the checkered flag dropped, the championship podium was dominated by Motorcycle- Superstore.com superstars.
It started with the first heat race where Parkinson Brothers Racing / Performance Cycle & Dyno / Motorcycle-Superstore.com rider, Stephen VanderKuur ran away from the field aboard his Honda CRF450 crossing the finish line with an impressive lead over Superstore rider Jason Isennock. In heat two it was Weirbach Racing / Motorcycle-Superstore.com's Dominic Colindres who crossed the line first followed by Jake Shoemaker and Wyatt Maguire, both Superstore riders.
The stage was now set, as the front row of the Pro Single season finale was stacked with Motorcycle-Superstore.com Bell Helmet racers. The race was one of the year's best with several riders exchanging the lead. Isennock was in control prior to a red flag restart, then it was all VanderKuur – who could have finished anywhere in the top ten to win the title but chose to hang it all out, proving without a doubt why he was going to be the new Motorcycle-Superstore.com Pro Singles Champion. The final podium was solid blue with Motorcycle-Superstore.com grabbing all three positions; VanderKuur was first, Colindres was second and Wyatt Maguire finished third. Superstore's Jake Shoemaker finished fourth on the day and took second overall in the series. Isennock ended up sixth and finished third in the series. All three riders shared part of the $25,000 Motorcycle-Superstore Points Fund.
With the 2012 season complete, racers are already making plans for 2013, "I can hardly wait to race with the number one plate next year," claimed VanderKuur, who has already decided to return to the Pro Singles class next year. "We should have the same program with Parkinson Brothers Racing and by the time Daytona gets here, we'll be ready to go racing for the title one more time."
"Motorcycle-Superstore.com would like to thank all the AMA Pro Racing athletes and the AMA Pro staff for a great year of racing," added Tim Clark, Motorcycle-Superstore.com Director of Sports Marketing. "We'll see you in 2013."
About Motorcycle-Superstore.com:
Motorcycle-Superstore.com is the leading online retailer in the motorcycle and powersports industry. Serving motorcycle riders for well over a decade, Motorcycle-Superstore.com specializes in selling motorcycle and powersports helmets, riding apparel, accessories, tires and parts at the lowest prices possible. Internet Retailer magazine has ranked Motorcycle Superstore in the top-ten of all sporting goods sites and in the top-200 of all e-commerce sites. Powered by a dedicated staff of motorcycle enthusiasts, Motorcycle-Superstore.com continues to impress customers by constantly raising its online shopping standards. Visit http://www.motorcycle-superstore.com.