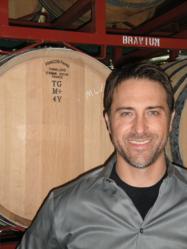 San Francisco, CA (PRWEB) October 16, 2012
Eric Asimov, New York Times' chief wine critic and author of "How to Love Wines," will be at The Commonwealth Club at 6 p.m. on Nov. 13 to share his expertise on choosing a good wine. The event, entitled "Eric Asimov: How to Love Wine," will also feature Bravium, a maker of exquisite red and white wines in San Francisco, for the after-program wine tasting.
In particular, Asimov will provide an enlightening conversation on how to embrace variety and the quest for a fantastic vintage. The networking reception opens at 5:30 p.m., followed by the program at 6:00 p.m. and a book signing.
Five days prior to the event, Bravium will likewise be at The Commonwealth Club for "Built in the Bay." The program, scheduled at 6 p.m. on Nov. 8, will feature the creativity and expertise that exists in the San Francisco Bay Area and adds to the locale's unique culture.
From crafting handbags to distilling booze, San Franciscans are tapping into the deep well of creativity and expertise that exists here to build, brew, bake and create. A panel of entrepreneurs and community leaders will explore the local marketplace, the benefits of buying local, and the distinct procurement culture that makes the SF Bay area so unique.
After the program, Bravium, producing wines from many of California's most notable appellations, including Napa, Sonoma, Mendocino and the Santa Cruz Mountains, will be sampling some of its new release bottlings. Speakeasy Ales & Lagers, Bagworks, Make Magazine, and other local artisans will also be present.
The cost for both events is $12 for members, $20 for nonmembers and $7 for students.
For more information about Bravium or to buy wines from Bravium, call 650-207-8314 or visit http://wineshop.braviumwine.com. Learn more about winemaker Derek Rohlffs at bravium.com or visit the winery at 995 Ninth St., Treasure Island, San Francisco.
About Bravium
Proprietor and San Francisco wine maker Derek Rohlffs created Bravium (Latin meaning "reward, prize, or gift") while completing winemaking coursework at UC Davis, including its wine executive program. Bravium produces vineyard-designated pinot noir and chardonnay and also bottles artisan wines, featuring proprietary white and red wine blends, White Wedding and Lucky, as well as private label wines for casinos and celebrity chefs. Wines produced at Bravium's San Francisco winery include the flagship Bravium Pinot Noir, Bravium Chardonnay and Bravium Rosé, as well as Carefree Pinot Grigio, Sunlight Chardonnay, Noiro Pinot Noir, Outlier Pinot Noir, Formidable Merlot, Summercloud Merlot, Ramblin' Man Petite Sirah, Midnight Oil Syrah, Character Cabernet Sauvignon, High Stakes Cabernet Sauvignon and Sachem Cabernet Sauvignon. Bravium wines have received numerous accolades, including San Francisco Chronicle Wine Competition and Shanghai International Wine Challenge awards. Bravium gives back to charitable organizations via its Sip&Give donation platform. For more information about participating in Sip&Give, visit http://sipandgive.com.