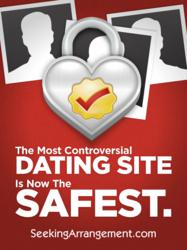 London, England (PRWEB) October 15, 2012
SeekingArrangement.com, the world's largest Sugar Daddy and Sugar Baby dating website, reveals its list of the "most promiscuous" cities in the European Union, today. While most European Sugar Daddies reportedly have only three to four sexual partners annually, 41% claim to have more than seven partners per year, that percentage being significantly higher in cities such as Prague, Vienna, and Carlisle.
25,000 of SeekingArrangement.com's European members were polled and only 23% fell within the "average European" category with 9 sexual partners in their lifetime. Brandon Wade, MIT graduate and Founder & CEO of SeekingArrangement.com, points out that this number is significantly lower than the recent number given by a study conducted by the Health Survey for England.
"The EU is known as being comfortable with sexuality and exploration. I think it's more of a surprise to see "9" as the average number in a lifetime," says Wade. "Wealthy men are worldly and appreciate different experiences. Most of these men [on the list] have a geographic advantage of being located in major cities with high traffic and a good amount of sunshine—a natural aphrodisiac. Combine that with the allure of wealth, it's no surprise that these men are so satisfied."
The data varies by city, showing that some cities have higher percentages of promiscuity among men than others. The following cities are ranked based on the percentage of Sugar Daddies who reported having more than seven sexual partners per year. Exceptions are noted.
Cities With The Most Promiscuous Men in the European Union:
1.Carlisle, United Kingdom (100% of those surveyed at 14 or more partners)
2.Prague, Czech Republic (79%)
3.Vienna, Austria (76%)
4.Mykonos, Greece (74%)
5.Barcelona, Spain (71%)
6.Amsterdam, Netherlands (71%)
7.Monaco, France (68%)
8.Paris, France (55%)
9.Dublin, Ireland (53%)
10.Stockholm, Sweden (48%)
European Sugar Daddies are slightly more promiscuous than American Sugar Daddies, with only 38% reporting over seven annual sexual partners. The cities in Europe with the least amount of promiscuity, 3 to 4 partners a year, among rich men include:
1.) Edinburgh, Scotland (72%)
2.) Naples, Italy (70%)
3.) Paris, France (69%)
4.) Madrid, Spain (65%)
5.) Hanover Germany (62%)
To schedule an interview with Brandon Wade, Founder & CEO of SeekingArrangement.com, please call Angela Jacob at +1-702-241-0100 or email press(at)seekingarrangement(dot)com.
About SeekingArrangement.com
SeekingArrangement.com is the world's largest sugar daddy dating network, pairing wealthy men with beautiful women seeking mutually beneficial relationships. Since its launch in 2006, the website has amassed over 1.7 million members worldwide. The website has been featured on such outlets as the New York Times, CNN Headline News, Good Morning America, ABC 20/20. SeekingArrangement.com was founded by self-proclaimed "E-Cupid", Brandon Wade who was annointed "Mr. Sugar Daddy" by the Wall Street Journal. He is also the founder of a number of successful niche dating websites including the number one travel dating website - MissTravel.com, millionaire matchmaker website - SeekingMillionaire.com, and online dating auction website – WhatsYourPrice.com.