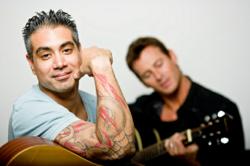 The guitar is not an easy instrument to play; but if you aspire to be an accomplished player, I can get you there.
Weston, FL (PRWEB) October 17, 2012
Start the school year off right with music lessons! Research shows that music can help brain development in children, enhances IQ and stimulates brain functions, according to lvntobsn.org. The College Board lists the arts as one of the six basic educational subject areas that students should study in order to succeed in college. Music therapy can help increase patients' chances of recovery, among many other positive health effects. Dyce Kimura knows firsthand the incredible impact music can have on people's lives and is now offering guitar instruction in Fort Lauderdale, Weston, and Parkland, as well as over Skype and on DVD.
According to the Children's Music Workshop, students that study the arts, such as music, obtain higher grades in school, score better on standardized tests, and become more well-rounded. In addition to that, the study of music promotes critical thinking skills, the value of hard work, and reduces lifetime and current use of substances, including drugs and alcohol. Dyce appreciates the significance of this research and is willing to teach those who have a desire to learn.
Dyce offers Weston guitar lessons to children, teens and adults, and tailors each lesson to fit the individual's skill level and aspirations at his custom home studio. He has been playing for 27 years, and has developed his teaching method over his years of experience. His method is unique, compared to that of other music teachers. From the first lesson, Dyce will have his students playing the guitar!
Dyce's goal is to have his pupils play the guitar with authority, which includes ear training, interpreting songs musically, and improvisation. Each lesson is customized for the individual, and Dyce works at their pace. He wants to get to know the individual; what they want to learn, what bands and songs they like, and what styles of music are their favorites. Beginning with the fundamentals and building on those, Dyce teaches the style of music and songs that the individual wants to learn as quickly as possible. Dyce offers electric guitar, acoustic guitar and beginner guitar lessons to students in Weston and surrounding communities.
Most people are anxious to see results right away, and Dyce's plan will help his students reach their goals in a few short weeks. He teaches basic chords right away, and soon after that will help the individual put the chords together to form musical compositions. He will help them graduate to combining the chords into songs and will teach them improvising and soloing techniques. His lessons cover a wide range of topics and skills, including basic and advanced chords, reading music, songwriting and ear-training. He will also advise as to the best music gear to select.
Dyce is excited to work with new students and to help them succeed musically and otherwise. That is why he is giving a discount of $100 off to new students that sign up for 10 lessons, which normally cost $600 and can now be taken advantage of for as low as $500! They will also be grandfathered in at this price for every time they renew their lessons.
Dyce describes his personal philosophy when he says, "The guitar is not an easy instrument to play; but if you aspire to be an accomplished player, I can get you there."
For more information on how to get lessons, please visit Dyce's website at http://www.dycekimura.com or call (786) 457-3687 today!