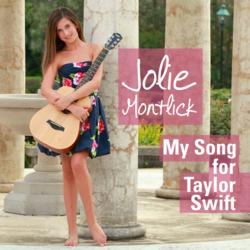 "My Song for Taylor Swift" not only honors my favorite artist, but it also empowers kids to not be silent bystanders, and to be a friend to someone who is a victim.
Atlanta, Georgia (PRWEB) October 16, 2012
The music video "My Song for Taylor Swift" will premiere this Saturday, October 20th, to a crowd of 10,000, at the opening weekend of the Gwinnett Gladiators professional minor league hockey team. 10-year-old singer/songwriter Jolie Montlick will be appearing live to help spread her anti-bullying message. Filmed with a cast of over 150, the video honors Taylor Swift, who was a victim of bullying, and also empowers kids to not be silent bystanders and to be a friend to someone who is a victim.
"I am very excited about the opportunity to get the message out, and to let kids who are being bullied know that they are not alone," says the 5th grader. "There are so many sad stories in the news, and I am thinking today of Amanda Todd from Canada, and how if someone had taken the time to sit with her and be a friend, she might not have felt so alone." Jolie's music video, which shows scenes of kids taking appropriate actions when faced with bullying, is also being shown at school/community anti-bullying rallies, and has received positive feedback from kids, parents and educators.
Some of the statements made by kids who have seen the video include: "I am not going to be a victim anymore," "I am going to speak up the next time I see someone being bullied," and "the video made me realize that I am not alone, and that bullying can happen to anyone." Jolie states, "I want the video to go viral so that it will be seen around the world, to help as many kids as possible."
The music video for "My Song for Taylor Swift" can be seen at JolieMontlick.com and on YouTube. The song is available for purchase on iTunes and Amazon, with 100% of the net proceeds going to support the Ambassador 4 Kids Club (A4K). A4K is a national, non-profit youth organization that provides kids with the information they need to prevent, stop and report bullying and child abuse. Jolie is a national spokesperson for the A4K program (a4kclub.org).
The Gwinnett Gladiators are celebrating their 10th Anniversary at this Saturday's game against the Greenville Road Warriors, starting at 7:05pm. The media is invited to attend.
About Jolie Montlick
When not in school or working on her music, Jolie gives generously of her time to help others. As National Spokesperson for A4K, Jolie appears in public service TV messages and news interviews to encourage kids to use their voices to speak out against bullying, and to take positive actions to help kids who are being bullied. Jolie is also a 2nd degree black belt and two-time state champion in Tae Kwon Do, and has helped teach self-defense and life skills to over 1,000 kids. In addition to "My Song for Taylor Swift", Jolie has just released three new singles that are available on iTunes and Amazon: "Just One Day", "Crazy For You" and "Need You". For more information, please visit JolieMontlick.com.
Please contact us for access to broadcast quality video files, high-resolution photos and mp3 files.