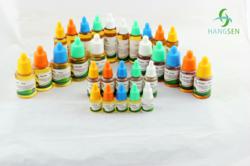 We have the entire production process strictly controlled by our in-house software system, from tobacco sourcing, to extraction, to mixing.
Shenzhen, China (PRWEB) October 23, 2012
The electronic cigarette industry has evolved rapidly over the past decade and now has become a billion dollars market in the world. More and more consumers in many countries start to gain awareness of the products. The market development has always been with debates on the safety of the products. Many governments are watching closely at any safety issues of the product.
As the technology develops, now the hardware of the product is not a major issue. The battery, chip program and the cartomizer structure have become stable. The governments are now more concern about the safety of the E-liquid, the liquid used inside of the electronic cigarettes.
E-liquid is made of various ingredients. To ensure the safety of the products a company has to strictly control the production process and the resources. However to have the best ingredients a company will need to have the capabilities of ingredient extraction and separation from natural tobacco, which means multi-millions USD of investments on the facilities and many years of medical experience. According to Jide Yao, CEO of Hangsen Holding Co., Ltd, there are very few manufacturers in this industry having these facilities.
"Producing safe E-liquid is not as simple as buying the ingredients and mixing them in the lab, as you have no control of the ingredient quality in this way. It is very difficult to extract high quality ingredients, for example 98% pure nicotine. Every week there are clients flying from all over the world to visit our E-liquid production facilities. Unlike 2 years ago clients only care about flavours now they are asking more and more technical questions on the production process to comply with their forthcoming regulations. We saw that coming and therefore have the entire production process strictly controlled by our in-house software system, from tobacco sourcing, to extraction, to mixing. We are glad that we can work with most of the biggest retailers in the world to help standardize the industry." said Jide Yao. He also gave us a tour in their factories and showed us how they produced the finished products. We were impressed by the knowledge and the facilities they have.
The safety of electronic cigarette has no doubt a great concern in the e-smoking industry. But first step is to have a safe product to comply with the local regulation. In our visit to the biggest manufacturing factories most of them concern us as they cannot reach the quality standard. If all manufacturers could prove to be the governments that they are capable of producing safe products, electronic cigarette industry could become bigger than ever before.
Hangsen is world's largest manufacturer of E-liquid. The company is working with the top retailers worldwide to help local governments understand E-liquid and create regulations.