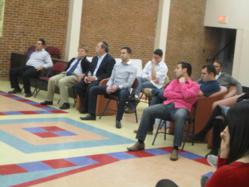 This holiday program was a lifesaver for me. The inspiration I experienced with BJX will empower me through the entire year.
New York, New York (PRWEB) October 16, 2012
Brooklyn Jewish Xperience (BJX), Brooklyn's local educational organization, works tirelessly around the clock, operating five innovative programs for young Jewish professionals each week. They've reached a new plateau, adding holiday programming to their list of educational services. They hosted their first Rosh Hashanah, New Year's program for Brooklyn's unaffiliated and secular Jews. This was a holiday celebration that was so successful that participants are still reminiscing about it. A sumptuous gourmet meal in the stunning upper ballroom of the Agudath Israel of Avenue L followed the explanatory prayer services. The world-renowned lecturer, Rabbi Zecharia Wallerstein, was the featured guest speaker. His riveting presentation on the Jewish New Year had the participants sitting on the edge of their seats.
Rosh Hashanah is when we coronate G-d and accept His sovereignty. One can imagine the sad plight of a new king when he doesn't have the majority of his subjects present at his coronation ceremony. Not because they don't respect him but simply because they aren't aware he exists.
This is precisely what occurs in Brooklyn every Rosh Hashanah New Year. 70% of Brooklyn's Jews are either non-observant or are from religious homes and turned off from Judaism. G-d must feel terrible that so many of His children don't recognize Him. This is why the Brooklyn Jewish Xperience New Years program, which was the only free educational Rosh Hashanah program of its kind in the entire Brooklyn, was so critical. Jennifer is a secular programmer living in Brooklyn. She had absolutely no where to go for the Jewish New Year. She found out about the program after Googling "Rosh Hashanah in Brooklyn" and had experienced her first taste of Judaism. Michael, a physician living in Brooklyn, who was raised in a secular home said, "This holiday program was a lifesaver for me. The inspiration I experienced with BJX will empower me through the entire year."
Rabbi Fingerer led beautiful services and in his inimitable style kept the audience captivated with his words of Torah and Jewish wisdom. Brooklyn Jewish Xperience students are grateful to Mark and Rivky Caller for their super dedication and devotion throughout the year and for being such amazing hosts. Mr. Caller shared words of Jewish wisdom during the delicious meal and spent time chatting with the young Jewish professionals. Mrs. Caller taught the young ladies about the Jewish tradition of candle lighting on the eve of the New Year. Rabbi Wallerstein spoke several times to the great joy of the students.
Each student received a beautiful Artscroll New Year's Interlinear prayer book as a special gift generously dedicated by the Greenfield family in memory of Chaim Yehuda ben Dovid Elimelech Pinter.
Brooklyn Jewish Xperience is hosting an evening of inspiration with the renowned J. Philip Rosen and Rabbi Fingerer Wednesday, October 17th at the beautiful SLC located on Ave T and East 8th Street. The program begins promptly at 7:45pm and includes dinner, networking and words of Jewish wisdom. It is open to young Jewish professionals and college students and free if they register no later than 2:30PM on October 16. To register for this program, or future classes and events go to http://www.brooklynjewishevents.com, or email bjxperience@gmail.com.
To enable BJX to continue its vital educational work, adopt a community in Brooklyn, or sponsor an event call 646-397-1544. A secure online donation can also be made here: http://fundly.com/brooklynjewishxperience.
About Brooklyn Jewish Xperience
Brooklyn Jewish Xperience educates, empowers, and inspires college students and young Jewish professionals throughout Brooklyn to be the leaders of tomorrow. BJX's innovative and exciting programs help students explore a rich and meaningful Judaism. To help Brooklyn Jewish Xperience continue their critical work, please call 646-397-1544.
###