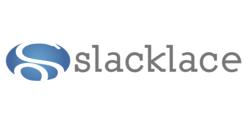 We look for ways to give back to our community
Baltimore, Md (PRWEB) October 17, 2012
Slacklace will be visiting the Baltimore VA Medical Center to meet over 125 wounded veterans and distribute their revolutionary Slacklaces. Wounded veterans face many challenges, but with Slacklaces, we hope that tying their shoes is not one of them.
Slacklace was founded by necessity, right here in Maryland. Bill Bechtold was watching his son rehearse a part in "Grease" at Kent Island High School. He saw that many of the young performers could not get the costume changes down swiftly enough, especially the shoe changes. He swapped out their regular laces for elastic ones that he fashioned and instantly every shoe became a slip on and took no time or effort to put on. Tie a shoe once and you're done! Slacklace was born.
SlackLace is the perfect lace choice for everyone…from athletes to kids to the boardroom and the hospital. The lace is made of elastic, so it compensates for all sorts of problems. As feet swell, the lace expands helping to alleviate pressure, eliminate bruising and it can compensate for braces and bandages. Slacklace has found a large following in the medical community where arthritis sufferers and hand/arm amputees unable to tie conventional laces can have their laces tied once and them just slip their shoes on and off from then on. The complete list of benefits and who is using Slacklaces can be found on our website: slacklace.com.
SlackLace is proud to give back to our community. Helping to ease the difficulties of veterans at the Baltimore VA Medical Center is one of the amazing benefits of SlackLace and we are happy to help those who have given so much to our country.
Our laces are made in the USA and are packaged at OBI by local adults with developmental disabilities.
For more information, please contact Matt Antonis at (443) 827-0402
CONTACT: Matt Antonis
SlackLace LLC, Made in the USA
(443) 827-0402
Matt(at)slacklace(dot)com
Slacklace.com