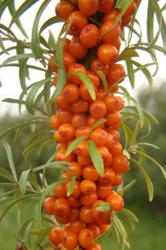 Salt Lake City, UT (PRWEB) October 16, 2012
Sibu RAW from Sibu, LLC, the leader in premium sea buckthorn berry, Omega 7-based products and sea buckthorn berry provider for Dr. Weil's True Food Kitchens Restaurants, was featured on The Dr. Oz Show by Dr. Weil as an important food to include in his anti-inflammatory diet.
In his recently introduced book, "True Food: Seasonal, Sustainable, Simple, Pure" Dr. Weil promotes healthier eating, particularly including foods that are anti-inflammatory to help preserve tissues and prevent diseases. During the popular show, Dr. Weil featured his daily wellness drink "Andy's Elixir" using Sibu's 100% pure, raw sea buckthorn puree, Sibu RAW. He recommended the beverage be ingested daily to help fight inflammation and keep up energy levels.
Sibu RAW, the finest sea buckthorn berry raw product available, was selected by Dr. Weil and Executive Chef Michael Stebner as the best possible 100% natural sea buckthorn berry puree that delivers the most nutritionally-dense profile from the entire berry. Sibu RAW is used throughout the group of True Food Kitchen Restaurants in numerous recipes including drinks, desserts and sauces.
Sea buckthorn, a relatively new "miracle fruit" to the USA, has been used for centuries in Eastern civilizations for dozens of health, wellness and beauty applications. Sibu, LLC Founder and CEO, Bruce McMullin is greatly responsible for introducing the sea buckthorn berry to the western world and encouraging more scientific studies and testing on the numerous, positive effects the berry can have both internally and topically. McMullin began Sibu LLC as the overarching entity behind a series of product lines based on the powerful sea buckthorn berry. In 2009, Sibu Beauty was introduced as a premium sea buckthorn berry-based 100% natural beauty and wellness line. Sibu Beauty's topical and ingestible products are highly regarded throughout the consumer and trade communities and are available online and in over 4,000 retail outlets. McMullin and the Sibu, LLC team recently announced a new line of ingestible wellness products, Sibu Seven that will be available in the coming months.
Recent studies performed in Europe have shown that sea buckthorn, particularly because of its 190 bioactive compounds and the largest concentration of Omega 7 of any food source, can help to lower LDL cholesterol and increase HDL cholesterol, and improve cardiovascular, gastro-intestinal and urogenital functions. Additionally, the sea buckthorn berries properties are beneficial for the health of skin, hair and nails.
Not all sea buckthorn berry products are created equal, however Sibu, LLC has a proprietary location high in the Himalayan Mountain s where the berries are hand-harvested, pureed, and naturally-preserved to assure only the most nutrient-dense berries are used in each and every Sibu sea buckthorn berry-based product. All finished products are manufactured in the United States to assure quality-controlled standards and distributed from the company's Salt Lake City corporate headquarters.
About Sibu, LLC
The products of Sibu Beauty - a subsidiary of Sibu, LLC, and "The Sea Buckthorn Company" - are made with only premium sea buckthorn berries exclusively grown and harvested for the company in the Himalayan Mountains of Tibet. The company's meticulous harvesting process results in a more hardy and potent berry. Sibu's proprietary manufacturing process maximizes the efficacy of sea buckthorn raws, producing one of the most nutrient dense sea buckthorn products available on the market today. The Tibetan villagers who are responsible for harvesting Sibu Beauty's sea buckthorn berries benefit from a fair trade agreement, safe and healthy working conditions and environmentally responsible practices that ensure they will enjoy the benefits of the sea buckthorn harvest for years.