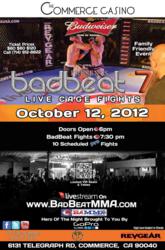 Santa Ana, CA (PRWEB) October 17, 2012
'The Real Deal' Chris Beal Remains Undefeated
One of BAMMA USA's prospects, 'The Real Deal' Chris Beal won his Main Event fight over Shad Smith by unanimous decision moving his undefeated record to 7-0. "Every prospect needs those watermark fights against a true veteran to be considered worthy of moving on to the next level. Chris got that test tonight and he passed it with flying colors," remarked Brett Roberts, BAMMA USA CEO, shortly after the contest. The bout started a little slow as a cautious Beal looked for his openings but by the end of the first round, Beal was landing some kick-punch combinations. Round two saw some ground work by both fighters as Beal countered a couple of submission attempts with some ground and pound. Beal highlighted round three with some relentless knees and effective strikes as he pinned Smith up against the cage. In the post-fight interview, Beal was disappointed that he could not finish his opponent but given the fact that he was battling an illness and that his cardio was not up to his standards, he was happy to still get the win and keep his record perfect at 7-0.
Jasper Keeps His Winning Streak Going
In the Co-Main Event, Mike Jasper moved his record to 6-0 with a TKO victory over Kyle Bolt. In the progression of any top athlete there is the test of adversity. Jasper got that test in the first round of his fight as Bolt landed a punch that knocked Jasper to the mat and by most accounts, Jasper lost that first round. He responded in the second round like a seasoned veteran, waiting for an opening. Jasper found that opening and landed a left hook that dropped Bolt. From there Bolt looked to hold on but Jasper's striking dominance caused the referee to stop the bout. Jasper once again finishes a bigger opponent in the Middleweight Division silencing his critics that say that he is too small for the weight class. As one announcer, RJ Clifford, stated on the live broadcast, "this kid is destined for big things."
GoPro "Hero of the Night" Fight
The crowd was on their feet cheering loudly at the conclusion of the fight between Sevak 'The Silverback' Magakian and Nick 'No Limit' Piedmont. They were appreciative of the all-out effort both fighters had displayed during their toe-to-toe three round battle. When this bout was announced, it had "fight of the night" potential due to the experience and training that both fighters receive. Magakian was on The UFC's "The Ultimate Fighter" and trains with the current Strikeforce Women's Champion Ronda Rousey. Piedmont has fought in Bellator FC and trains with current UFC Bantamweight Champion Dominick Cruz and current Bellator Lightweight Champion Mike Chandler, both of whom were in attendance to support their teammate. In round one, Piedmont struggled to find his range with his strikes while Magakian looked for and got several takedowns. Piedmont found his range in the second round but it was Magakian's straight left jabs that bloodied Piedmont's nose. The striking exchanges between the two appeared to be technical and calculated. Early in round three, Piedmont hurt Magakian with some overhand rights but Magakian refused to go down. Piedmont kept the pressure on by delivering power punch after power punch but Magakian's chin was up to the task. Magakian returned fire once Piedmont tired from his assault. At one point both fighters were throwing everything they had at each other but neither fighter gave in and in the end, the decision as to a winner was left to the judges. As it turned out, they couldn't decide either declaring a split draw. In their post-fight interviews, both fighters were open to a rematch. I'm sure the fans want that too.
Culley Escapes with a Late Victory
One of the most experienced fighters on the card needed that experience to record a late come from behind victory. Chris 'The Urban Legend' Culley had 26 professional fights before entering his bout with Tom 'The Grinder' Gloudeman, 16 of those ending in victory for him. As an MMA veteran, Culley knew going into the third round that he was losing his fight. Gloudeman had frustrated Culley by tying him up against the cage and pressing him on the ground with submission attempts for two rounds. Culley did not have a chance to display his striking ability until he found some space with about 90 seconds left in the fight when he followed up on a double knee attempt with a short right elbow that found its mark, dropping Gloudeman, and after a few more punches, forced a stoppage by the referee. His post-fight celebration was indicative of a fighter who knew that he had just grabbed a victory from the jaws of defeat, as Culley dropped to his knees raising his clasped hands into the heavens.
Valdez Puts on a Submission Attempt Display
Eric Brown's last two appearances in the BAMMA USA cage had lasted a combined 33 seconds, both resulting in victories. Jorge Valdez not only took Eric Brown the distance but he also earned a split decision win over him. This fight was an exhibition of submission attempts by Valdez. He took Brown to the ground and transitioned from one submission attempt to another. The crafty Brown would escape from those repeated submission attempts but he could not mount any dangerous offense of his own. In the end, two judges decided that Valdez's attempts outweighed Brown's escapes, thus giving Valdez the split decision victory.
Fight Notes
BAMMA USA supported National Breast Cancer Awareness Month by featuring the color pink in the signage above the entrance to the Badbeat cage, supplying the referees and cutmen with pink wristbands, and having BAMMA USA staff wear pink ribbons during the Badbeat 7 show. The scheduled fight between Steve 'The Dream' Magdaleno (9-3) and Jason 'Trouble Maker' Williams (4-4) was cancelled due to a late injury sustained by Williams. The unprofessional actions by Xavier 'X-Man' Stokes of not showing up to weigh-ins and subsequently not having all his medicals in order lead to the fight night cancellation of his bout against Gil Guardado (1-0). BAMMA USA has requested disciplinary action be taken against Stokes by the California State Athletic Commission (CSAC) for his actions. Light Heavyweight Mike Smith is retiring from the Unites States Marine Corp after 20 years of service and numerous deployments, BAMMA USA thanks him and all the men and women of our armed forces for their service. The Badbeat 7 broadcast was carried live and free of charge on the internet via Livestream. Replays continue to play on the BAMMA USA LiveStream channel, just follow the link on http://www.BammaUSA.com. Friday, January 11, 2013 was announced as the date for Badbeat 8.
Badbeat 7 presented by Budweiser Results
When: Friday, October 12, 2012
Where: Commerce Casino
6131 Telegraph Road
Commerce, CA 90040
Main Card
Main Event- 145 lbs: 'The Real Deal' Chris Beal (7-0) defeated Shad Smith (12-16-2) by Unanimous Decision
Co-Main Event- 185 lbs: Mike Jasper (6-0) defeated Kyle Bolt (4-2) by TKO, Rd 2
9. 145 lbs: Nick 'No Limit' Piedmont (6-3-1) and Sevak 'The Silverback' Magakian (12-3-1) Split Draw
8. 145 lbs: Chris 'The Urban Legend' Culley (17-10) defeated Tom 'The Grinder' Gloudeman (7-2) by TKO, Rd 3
7. 155 lbs:. Jorge Valdez (5-2) defeated Eric Brown (3-3) by Split Decision
About BAMMA USA
BAMMA USA is a mixed martial arts promotional company specializing in creating live entertainment, featuring both professional and amateur combatants. It is southern California's leading mixed martial arts organization, providing the area with monthly events and opportunities to professional and amateur athletes.
Currently stationed out of southern California, BAMMA USA promotes the area's top local talent from mixed martial arts gyms such as CSW, Knuckleheadz Boxing & MMA, Elite MMA, Kings MMA, PKG, Joker's MMA/Lightning MMA, The Bodyshop, Reign Training Center, Total MMA Studios, Ace Jiu-Jitsu, Cobra Kai, Gracie Morumbi, Cesar Gracie Jiu-Jitsu Academy, The Arena, Subfighter MMA, as well as many others.
Past and current fighters who have worked with BAMMA USA founder Brett Roberts include: Mike 'The Joker' Guymon, Vladimir 'The Janitor' Matyushenko, Joseph 'Leonidas' Henle, Georgi Karakhanyan, Gabe 'Godzilla' Ruediger, Jason Lambert, Chad 'The Savage' George, Albert Rios, 'The Real Deal' Chris Beal, Mike Jasper, Jared 'The Jackhammer' Papazian, Sevak 'The Silverback' Magakian and more.
While the promotion prides itself on the motto: "Keep Moving Forward," the ultimate passion for BAMMA USA is to create an environment in which fighters are truly valued.
Web site: http://www.BammaUSA.com
Facebook: http://www.facebook.com/bammanation
Twitter: @BAMMAUSA