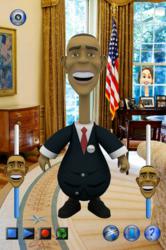 Boston, MA (PRWEB) October 17, 2012
When the lapel button is pushed on the caricature doll, there are a series of popular Obama, Palin and Pelosi sayings and gaffes. Once the consumer had enough of the politicians' spin, it can be "throttled" by pushing the head backward and hearing the garbled choking sounds of Obama saying "Change", Palin saying "Maverick", or Pelosi saying "Bo-toxic".
Here's the YouTube of Obama, Palin and Pelosi: http://www.youtube.com/watch?v=dWAh3X5Gckg
When Obama's "Change" button is pushed, listen to him say: "I've now been in 57 states, and I think one left to go"; "You can put lipstick on a pig; it's still a pig"; "Hold on one second, Sweetie, we'll do a press avail"; "Yes, we can!" and his famous response to Joe The Plumber, "I think when you spread the wealth around, it's better for everybody."
Push Palin's "Maverick" button and hear her say: "As for that VP talk all the time, I'll tell you, I can't answer that until somebody answers for me, 'what is it that the VP does every day?'"; "You can actually see Russia from here, from an island in Alaska"; "What is the difference between a hockey Mom and a pit bull? Lipstick"; "You betcha"; "Absolutely, yup."
Push Pelosi's "Bo-toxic" button, and hear her say: "We must pass the healthcare bill in order to find out what's in it"; "You must drain the swamp if you're going to govern for the people"; "We are the most ethical and honest Congress in history"; "It takes a woman to clean House"; "Anyone who's ever dealt with me knows not to mess with me."
"Every time I heard a politician lie or spin a situation, I would want to throttle them," said Maureen O'Leary of Boston, who created ThrottleNecks™. "They've been pushing our buttons long enough. Now it's time for us to push theirs."
O'Leary, has also developed an App for the iPhone and iPad in the likeness of Obama and Romney. Download them from iTunes under Throttlenecks. Perfect for the upcoming election conversations.
http://itunes.com/apps/throttlenecks
These dolls can be ordered on the website http://www.throttlenecks.com and a select few retailers. Check out the website for more information.
Contact:
Allison Guthrie
857-488-4010
politicsft(at)gmail(dot)com