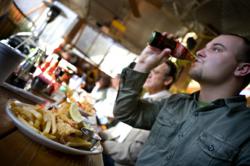 All profits from this event will be donated to PetSavers of Shreveport, a 501(c)(3) non-profit organization
Shreveport, La. (PRWEB) October 16, 2012
Herby-K's, a restaurant located at 1833 Pierre Avenue in Shreveport since 1936, will host its Second Annual Block Party and Benefit, 2-6 p.m., Sunday, Oct. 28. The event will include live music by Danny Wilder and the Bayou Gypsies, bounce houses and entertainment for children, food provided by Herby-K's, beer trucks and more. The party will take place in the 1800 block of Pierre Avenue, outside of the restaurant. Tickets are $25 and include admission, food and non-alcoholic beverages. Tickets may be purchased in advance at Herby-K's.
All profits from this event will be donated to PetSavers of Shreveport, a 501(c)(3) non-profit organization whose mission is to rescue, protect, and place abandoned or unwanted pets and provide funds for neutering, spaying, and other veterinary care. Last year's inaugural event, planned to coincide with the 75th anniversary of Herby-K's, raised more than $3,000 for PetSavers of Shreveport. An estimated 300 guests attended last year's inaugural event.
"PetSavers is a good thing for the community," said Herby-K's co-owner Angela Busi Doe. "We want to bring more attention to the great work that they are doing, and encourage more people to consider adopting."
The menu for the evening will include the restaurant's signature Shrimp Buster sandwiches, catfish, gumbo, crawfish, po-boys and more. Beer will be available for purchase, but is not included in the price of admission. Ample curbside parking is available nearby and security will be provided.
Another reason for hosting the celebration is to demonstrate the commitment of Herby-K's to their historic Texas Avenue location.
"We're sticking around, we're staying," Doe said. "And we like to get people to come down here and enjoy themselves."