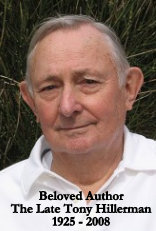 Santa Fe, New Mexico (PRWEB) October 15, 2012
The Tony Hillerman Writers Conference, November 8–10 in Santa Fe, is a three-day event devoted to the art and craft of writing. At the conference attendees will learn how to write better and gain insight into the business of writing from the masters. The 2012 faculty includes New York Times best-selling author Craig Johnson, thriller expert David Morrell, mystery writer Richard E. Peck, much-praised novelist Jo-Ann Mapson; published mystery novelist and humor writer Steve Brewer, non-fiction authors Bill O'Hanlon and James McGrath Morris, editors, publishers and more. This event is listed on the SantaFe.com event calendar.
The hosting hotel for this conference is the beautiful Hotel Santa Fe the Hacienda and Spa, Santa Fe, N.M., just steps away from the dynamic Santa Fe Railyard district with its shops and restaurants. Attendees are encouraged to consider the (optional) critique sessions with Ellen Kleiner of Blessingway Author Services.
Ticket Info
Purchase Tickets Online or by phone at (505) 471-1565
Full Conference Registration:
$395.00 until 9.22.12
$425.00 from 9.23.12 - 11.10.12
Friday Only: $225.00 until 9.22.12 | $255.00 from 9.23.12 - 11.10.12
Saturday Only: $275.00 until 9.22.12 | $305.00 from 9.23.12 - 11.10.12
Pre-Conference Workshop
$160.00 until 9.22.12 - $190.00 from 9.23.12 - 11.10.12
First Chapter Critiques
$165.00 if attending at least one day of the conference
$200.00 if not registered for the conference
Meal tickets available for guests: Friday Breakfast $30.00
Friday Lunch $35.00
Saturday Hillerman Luncheon $35.00
Saturday Keynote Dinner $60.00
About the Tony Hillerman Writers Conference:
The conference is named after author Tony Hillerman, who was part of the faculty for the first five years. (He is sorely missed) If you'd like to get periodic emails with conference, workshop and contest updates, please click here and ask to join the list. Thanks to Anne Hillerman and Jean Schaumberg, co-founders of the conference.
WordHarvest Contact Information:
Mailing Address: 1063 Willow Way, Santa Fe, NM 87507
Phone: 505-471-1565
Email: wordharvest at wordharvest dot com
About SantaFe.com
SantaFe.com provides locals and visitors to Santa Fe alike the most current interactive platform for events, music, arts, business, dining and lifestyle. SantaFe.com is a division of Hutton Broadcasting, located at 2502 C. Camino Entrada, Santa Fe, NM 87507
Contact Information:
Scott Hutton
SantaFe.com / Hutton Broadcasting
http://www.santafe.com
(505) 471-1067 (Media inquiries only, please)