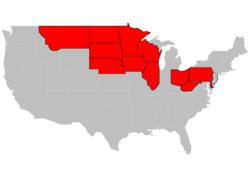 "The bottom line is that using handwritten forms to gather customer geographic data can be more economical and more targeted than other data gathering techniques such as phone, email, or face to face," states Mark Petersen, President of AIDE Data
Dallas, TX (PRWEB) October 16, 2012
AIDE Data analyzed over three million records and identified which customer information is most likely to be submitted on a signup form. AIDE has processed handwritten signup forms from all 50 states, every US Metro area, 2,796 counties (92% of all counties) covering a wide span of industries including: medical, charitable causes, investigative findings, public events, automotive, insurance, restaurants, consumer products, home repair, sports teams, retail stores and discount cards.
Customer names and contact information can be collected at public events and business locations, but the type of information the customers provide varies by area of the country. The most accurate street addresses are found in New England, the best phone numbers are provided in Minnesota or Wisconsin, and the best email addresses are in Arizona or Utah. The design of the signup form also affects the data provided. If the signup form has space for more than one form of contact information, 91% of respondents will provide complete addresses. Of these addresses, 93% are recognized and standardized by the US Post Office system; compared with 78% for phone numbers and 53% email addresses.
Information given will vary by the geographic area. Over 97% of all street addresses in Massachusetts are zip 4 standardized by the postal service. Comparatively, states such as California, Florida, New Mexico and Hawaii average only 81% of all handwritten street addresses recognized by the USPS. On a related note, Wisconsin and Utah are examples of states which have street addresses that can be difficult to interpret by data entry technicians because the street names are not common but often a string of numbers and letters, such as N35 W2500 State Route A.
"Our signup form analysis shows several interesting things about customer behavior, and the biggest finding in our analysis is that 93% of all handwritten addresses are able to be recognized and standardized by the USPS, " states Mark Petersen, President of AIDE Data. "The bottom line is that using handwritten forms to gather customer geographic data can be more economical and more targeted than other data gathering techniques such as phone, email, or face to face."
When it comes to providing email addresses, the stingiest state is South Dakota with only 26% offering a way to put something in their inbox. Residents of Wisconsin, Alaska, Delaware, Iowa, Illinois, Minnesota, Montana, Nebraska, North Dakota, Ohio, Pennsylvania and West Virginia all provide email addresses less than 50% of the time.
It is interesting to note that all of these are Northern states forming a near complete line from Delaware in the East to Montana in the West. On the flip side of the email coin, the residents of Hawaii, Utah and Arizona are the most likely (73%) to provide an email address.
Other than varying by geography, email percentage can vary from project to project with a high of 90% to a low of about 20% of those forms that ask for an email. Projects with the highest email percentages are where the customer is signing up for a club or other service and they expect to 'get something'. The lowest email percentages are where additional information is requested and if the customer thinks they are going to be sold something they are less likely to provide an email.
As businesses prepare for the holiday season, it's a good time to update customer databases by utilizing signup forms to obtain the most current contact information of primary customers.
_____________________________________________________________________
About AIDE Data
Since 2005, AIDE has provided data entry, data management , database and online retail solutions to clients across USA and Canada.