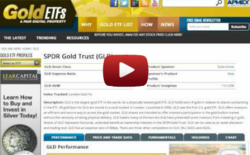 Easily get up to speed on the key elements of the largest gold ETF on the planet.
Chicago, IL (PRWEB) October 16, 2012
Gold ETF investors have a convenient new way to learn about the largest gold fund in the world - video. GoldETFs.biz has launched an investor centric resource focused on demystifying the SPDR Gold Trust. The video titled "SPDR Gold Trust Profile" is available to watch here. The purpose of the video is to briefly highlight key elements of the popular ETF. Several of the elements highlighted include the expense ratio, the lesser known NAV ticker for the ETF and the benchmark the ETF uses to assess performance. In addition, a companion article is also available.
The SPDR Gold Trust is one of the largest ETFs in the world. It has a unique underlying structure allowing it to actually own bars of gold. While this ability attracts investors, GoldETFs.biz has found that some investors don't feel like they fully understand the ETF. In order to provide a new level of insight investors, GoldETFs.biz decided to publish a video that quickly identified and explained key data points.
"Gold ETFs continue to be popular with investors who desire exposure to physical gold," said Christian Magoon Publisher of GoldETFs.biz. "While gold ETFs provide many features and benefits, we have found that some investors desire a convenient way to get up to speed on the key elements of the product. Using video to identify and explain these elements was a natural extension of the insight we currently provide."
Today there are more than 20 gold ETF and ETN products listed in the United States. These products contain over $100 billion of investor assets. The SPDR Gold Trust contains the bulk of these assets with over $76 billion under management. To view a all gold ETF products visit the GoldETFs.biz interactive gold ETF list.
About GoldETFs.biz
GoldETFs.biz is a leading investor education site focused on all U.S. listed gold ETF and ETN products and the markets they track. It is published by ETF insider Christian Magoon. The site provides a complete gold ETF list, comparison tools and real time insight on gold through Twitter feeds. Besides the site, users can access GoldETFs.biz content on Facebook, YouTube and Google+. Follow @GoldETFsBiz on Twitter or become a fan on Facebook at /GoldETFsBiz.
About Christian Magoon
Christian Magoon is CEO of ETF consulting firm Magoon Capital. PAIR Digital, a division of the firm, publishes ETF related content including GoldETFs.biz. Having launched over 40 ETFs to date, Magoon is an ETF insider and innovator. His vision for GoldETFs.biz was to create a convenient, social and educational source of ETF information on the gold exchange traded fund segment. India fund site, IndiaETFs.com, is a sister property. Christian has been named an "ETF Pioneer" and was recently featured as "One of Five ETF Experts To Follow on Twitter." Follow @ChristianMagoon for regular investment and ETF insight.