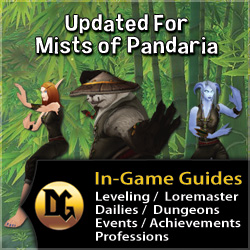 (PRWEB) October 16, 2012
The Mists of Pandaria update for World of Warcraft has led to many players deciding to level up a new character. In particular, the Pandaren Shaman is one of the most popular combinations since the Shaman class fits the Pandaren race.
The biggest problem leveling up a new class presents to players is that it can be a tedious process. While the new leveling zones and from levels 85-90 are new and exciting for players, many players find the old areas of levels 25-85 to be quite tedious since they have done this before.
With the new update to their speedy leveling guide, Dugi's Ultimate WoW Guide seeks to combat this boredom by helping players level up their class significantly faster. Players are able to take a new Shaman in World of Warcraft from level 1 to level 90 in less than a week of playtime when using Dugi's Guide.
The creators of Dugi's Ultimate WoW Guide seek to combat this problem by making leveling up extremely quick. By providing players with the fastest leveling path from levels 1 to 90, Dugi's Guide takes the often boring leveling process, streamlines it, and shows players exactly where to go in-game to complete quests. By directing players to quest NPCs, then to quest objectives, and then to whatever NPC completes the quest, players are able to realize the fastest leveling experience possible.
Make no mistake about it, not only is there no need for grinding in World of Warcraft anymore but there are more than enough quests in WoW with Mists of Pandaria so that players have an over-abundance of quests to choose from when leveling up. Dugi's also helps speed up the leveling process by weeding out inefficient quests which are more trouble than they are worth.
With the new Mists of Pandaria update, Dugi's Ultimate WoW Guide is faster than ever. More detail at Strategy Guides HQ.