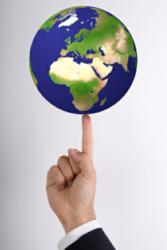 China saw its gross domestic product (GDP) growth for this year reduced to below the key eight-percent threshold to 7.7% by the World Bank.
New York, NY (PRWEB) October 17, 2012
Top financial newsletter Investment Contrarians recently published an article in which financial expert and editor George Leong claims that traders are lackluster in their assessment of the current global risk and the potential impact on stocks. Leong warns that the global economy is stalling, and unless the eurozone and Europe can recover from the financial crisis, Leong's prognosis for the global economy is not good—and, as he states, the International Monetary Fund (IMF) and World Bank are also warning about the future of the global economy.
"China saw its gross domestic product (GDP) growth for this year reduced to below the key eight-percent threshold to 7.7% by the World Bank," reports Leong. "In China, there are clear indications of slowing economic recovery resulting from the lower demand for copper, cement, and energy." (Source: "Growth to Slow in East Asia and Pacific in 2012," The World Bank, October 8, 2012.)
Citing the IMF, Leong adds that the Fund cut GDP growth in India to 4.9% for this year, compared to the previous 6.1% estimate.
In the article "If You Don't Believe the IMF, How About What the Multinationals Are Saying?," Leong claims that multinational companies, many of which source much of their revenue flow from the global marketplace, have firsthand accounts of the business conditions and, therefore, should not be ignored.
The Investment Contrarians expert cites bellwethers Caterpillar, FedEx, Intel, and Procter & Gamble as examples, noting each has issued a warning to investors of a slowing global economy, along with cuts in earnings guidance.
"Procter & Gamble has cut its earnings three times over the past 12 months," states Leong. "Projected sales growth of 0.4% in fiscal 2013 earnings season is dismal, followed by 3.1% growth in the fiscal 2014 earnings season." (Source: Yahoo! Finance.)
Looking ahead for the third-quarter earnings season, Leong points out that Thomson Reuters is suggesting S&P 500 companies will report their slowest annual revenue growth since the recessionary climate in 2008–2009. Since the beginning of the third-quarter earnings season, 82 S&P 500 companies have issued negative earnings warnings, he adds.
Leong concludes by warning investors to heed what the companies are saying.
To see the full article and to get a real contrarian perspective on investing and the economy, visit Investment Contrarians at http://www.investmentcontrarians.com.
Investment Contrarians is a daily financial e-letter dedicated to helping investors make money by going against the "herd mentality."
The editors of Investment Contrarians believe the stock market and the economy have been propped up since 2009 by artificially low interest rates, never-ending government borrowing, and an unprecedented expansion of our money supply. The "official" unemployment numbers do not reflect people who have given up looking for work, and are thus skewed. They believe the "official" inflation numbers are also not reflective of today's reality of rising prices.
After a 25- to 30-year down cycle in interest rates, the Investment Contrarians editors expect rapid inflation caused by huge government debt and money printing will eventually start us on a new cycle of rising interest rates.
Investment Contrarians provides unbiased research. They are independent analysts who love to research and comment on the economy and investing. The e-newsletter's parent company, Lombardi Publishing Corporation, has been in business since 1986. Combined, their economists and analysts have over 100 years of investment experience.
Find out where Investment Contrarians editors see the risks and opportunities for investors in 2012 at http://www.investmentcontrarians.com.
George Leong, B. Comm., one of the lead editorial contributors at Investment Contrarians, has just released, "A Problem 23 Times Bigger Than Greece," a breakthrough video where George details the risk of an economy set to implode that is 23 times bigger than Greece's economy! To see the video, visit http://www.investmentcontrarians.com/press.