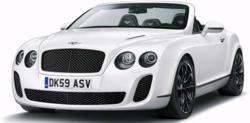 Driving one of these world-class dream automobiles is the icing on the cake for those who like to make the most of their time in Miami.
Miami, Florida (PRWEB) October 16, 2012
October 16, 2012 – Art lovers from across the U.S. and Canada will be heading to Miami's Coconut Grove November 16-18 for the 8th annual Mad Hatters Arts Festival. Travelers heading to Miami for the event are taking advantage of the weekend's eccentric theme and reserving exotic luxury rental cars for their visit through Prestige Luxury Car Rentals instead of the standard rental car.
Miami's international art scene makes it a popular destination for vacationers who like to combine their love of fine art with warm weather, beautiful beaches, a cosmopolitan night life and world-class shopping into one memorable trip. Beginning with the opening reception on Friday, November 16 on the front lawn of historical Barnacle Estate and museum, located on the picturesque Biscayne Bay in Coconut Grove, the event is a three-day gathering of eclectic art collectors and conventional visitors all descending on the magnificent venue for the same reason – to have a great time.
Attendees take full advantage of the visit to the Mad Hatter's Art Festival by renting a classic Bentley, Rolls Royce, Mercedes or Porsche to make the weekend even more memorable. Families attending the event are reserving roomier vehicles with all the space and safety features they're looking for in a luxury car rental, such as a Cadillac Escalade, a Hummer H2 or a Chevy Tahoe.
Free-wheeling singles and couples who return each year for the Mad Hatter's Art Festival, and those who are coming for the first time are reserving fun and sporty options like the Mini Cooper convertible, the Porsche 911, or the Maserati Gran Turismo.
"The Mad Hatter's Art Festival is a highly respected juried art event that attracts visitors who love to take advantage of life's finer offerings," says Prestige Business Development Manager Xylina Roman. "Driving one of these world-class dream automobiles is the icing on the cake for those who like to make the most of their time in Miami."
Visitors looking forward to pulling up to the eclectic lawn party in a head-turning dream vehicle to help launch the Mad Hatter Arts Festival are advised to bring their own teacup; "Alice in Wonderland"-themed costumes are encouraged.
Prestige staff members are available from 8 am to 8 pm daily at the Orlando showroom. For more information about Prestige's fleet of exotic luxury and sports cars, call 305.513.9711 (or toll free 1.888.513.9711), visit the Prestige Luxury Car Rentals website, follow the Prestige Facebook Page, or email info@prestigeluxuryrentals.com.
About Prestige Luxury Car Rentals:
Since 2004, Prestige Luxury Car Rentals has been providing exotic luxury vehicles to customers seeking the ultimate car rental experience. Prestige's professional staff all share a genuine passion for the world's finest automobiles, and that passion translates to superior customer service with every rental. Making sure customers have fun and relish their dream car adventure is top priority.
In addition to its Miami base, Prestige Luxury Car Rentals has expanded its showroom locations to Orlando and Atlanta. The Orlando location services Northern and Central Florida, and the Atlanta branch services North Carolina, South Carolina, Tennessee and (with some limitations) New Orleans. All three locations offer a fleet of exotic luxury and sports cars including Aston Martin, Audi, Bentley, BMW, Cadillac, Corvette, Ferrari, Hummer, Jaguar, Lamborghini, Land Rover, Maserati, Mercedes Benz, Mini Cooper, Porsche and Rolls Royce.