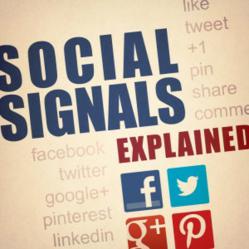 In order to reap the most benefit from these changes, websites will need to develop new strategies. - SMPro
London, UK (PRWEB) October 18, 2012
After the Panda and Penguin algorithm updates, Google had announced an additional 200 search factors to their list in 2012 and with Google themselves incorporating social search features such as the Google +1 button, it is apparent that they do in fact take social signals into account for future online searches. Even Microsoft's Bing have also introduced social search features. Backlinks are now less important in determining a site's ranking than the number of "Likes," "upvotes" or "shares" it receives via social media platforms. SEO is changing and Social Metrics Pro has become a more necessary tool for social media marketers to adapt to this change.
In the past, links pointing to a page from external sites (backlinks), were previously a major factor in the way that a site's page ranking was determined. More backlinks meant higher rankings,so this came to be exploited by unscrupulous sites and the rise in such practices has meant an erosion in the overall value of backlinks as a marker of desirable, high-quality content. To remedy this, Google now places much more emphasis on social media signals, which are harder to fake.
Social media signals include the number of times someone clicks the Facebook "Like" or Google+ buttons on a page; the number of times the page is shared on Facebook, Pinterest, Google+ or another social network; and the number of comments from social media accounts. Since each "Like," share or comment originates from a unique account, social signals are a much better indicator of the number of people who've found a page useful or relevant. Google has now ushered in the era of social signals, and Social Metrics Pro will now play a more significant role in helping marketers monitor these new search determinants.
Founder of Social Metrics Pro and search engine marketing expert Daniel Tan remarked: "[T]he term 'outdated' is very true when applied to backlinking to describe its situation since the introduction of the Google Panda update last year... Backlinking will continue to exist but with reduced importance." Daniel Tan knew the day would come where people would start shifting their emphasis towards social signals - that time is now.
Social media gurus all agree that social signals are paving the way for current and future SEO marketing efforts. In order to reap the most benefit from these changes, websites will need to develop new strategies. Thankfully, we have software plugins that can help webmasters to analyse and optimize their performance on a range of social media platforms. One of these exemplary solutions is Social Metrics Pro, a WordPress plugin designed to help site owners to track and monitor social signals and social marketing. It is able to track tweets, track shares, track likes and monitor a range of other social networks.
With the prevalence of social signals, now is the time to get involved and incorporate Social Metrics Pro into your social media marketing efforts. If you intend to manage your business well, you first have to be able to measure.
About Social Metrics Pro: Daniel Tan is an SEO Expert who saw the need to be able to monitor social media activities as they relate to on-site web content development and design. Thus, the Social Metrics Pro WordPress Plugin was conceived. Beginner or advanced WordPress users can quickly and easily monitor their social media efforts in one easy, yet comprehensive, reporting system. For more information on the place of social signals in today's SEO landscape, readers can refer to Daniel Tan's article "Social Signals Explained - What are they and how are they important?"