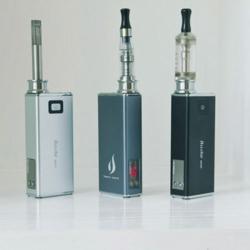 (PRWEB) October 16, 2012
Innokin iTaste MVP Pre-Orders are now being taken, Top Buy will be the first place when vapers can get this product! Top Buy now accepts pre-orders for the iTaste MVP, which will be sold at 69 dollars.
The iTaste MVP is the big brother of the Innokin iTaste and the latest product from Innokin. It is an ideal electronic cigarette product for "vape and charge on the go".
The iTaste MVP has attracted a lot of attentions from the vaping community since its pre-release. Here are some original opinions from vapers:
Lordbarby in UKV: "This is the iTaste on speed! It looks like a monster, apparently you can charge your mobile phone off it!!"
WallyO in ECF: "Pretty cool. There are exciting times ahead for vapers. As bad said, it should be one crazy year ahead."
Danpio1217 in Vaportalk: "I'm drooling at the mouth looking at this new iTaste mod. Looks like a Reosmod, but hopefully will be less expensive and more accessible."
Innokin official distributor Top Buy: "This may be the ugliest product from Innokin, but absolutely the best."
Innokin iTaste MVP features in brief:

Myriad compatible ( Thread fit CE4,CE5, eGo, VIVI NOVA , 510, etc )
Operating Volt adjustable ( 3.3-5.0 Volts in .1 volt increments )
Puffer accouter
Polymer li-ion rechargeable battery
Portable power source for electronic products
Long live energy 2600 mAh
Battery capacity display
ON/OFF safety switch
Passthrough
Standard Micro & 2.0 USB Socket
Short circuit /atomizer protection / Over-discharge protection
Innokin ITaste MVP Variable Voltage Starter kit:
1x iTaste MVP
2x dual coil XL Clearomizers
1x USB cable
1xtransparent carrying case