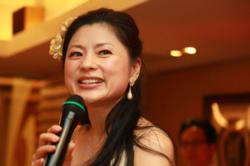 People generally know more about their iPhones than how to succeed in their marriages.
(PRWEB) October 18, 2012
Hellen Chen, relationship expert and matchmaker extraordinaire, launched her book 'The Matchmaker of the Century' on Barnes and Noble in early October.
Rising above over 100,000 books in the same categories, the book reached number one bestseller status in the following six categories:
#1 Best Seller in Marriage books
#1 Best Seller in Self-Help
#1 Best Seller in Relationships
#1 Best Seller in Love and Romance
#1 Best Seller in Self-Improvement
#1 Best Seller in Parenting and Family
In the daily news where stories of divorces and family break-ups have become normal, the Matchmaker of the Century brings fresh new look on marriage in the modern world and debunk myths about marriages. It shares real-life stories of how men and women made it in their relationships despite struggles and hardships.
Hellen Chen is the unorthodox matchmaker who has taken the road less travelled in her matchmaking. Unlike ordinary matchmakers who usually bring together men and women who are looking forward to get married, Chen brought together numerous men and women who had lost faith in relationships, resistive about love and who had basically given up on the possibility of experiencing a good marriage life.
'Love does not stop after the wedding." smiled Chen, "But you must know how to manage it - no different than knowing how to drive a car well, and become good at driving so that there is less chance of accidents."
To accomplish her wish to educate more people on marriage, Chen logged tens of thousands of miles every year, flying around the globe, get on international media interviews, lecturing and teaching marriage education to young people, working professionals, top CEOs etc.
"In America, we have top-notched academic education and advanced technology in all fields. We have achieved top competitive positions in the world in many industries. But we also rank at the top in divorce rates in comparison with other countries. Why are less and less people in America succeeding in their marriages?" said Chen.
Chen explained that contrary to popular beliefs, education standards, how much one has in his bank account, overbearing mother-in-laws etc are not the reasons behind failing marriages.
The Matchmaker of the Century book addresses the wide-spread problems that many couples have in their marriages and tackles the important subject: how to make marriages last despite all odds to fail in the modern world.
Those who would like to learn about how to create a stable family foundation and enjoy a long lasting marriage can visit the site: http://www.MatchmakerOfTheCentury.com
###