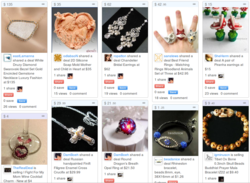 Enter Bizspeaking, the site that's taking its cue from Pinterest and giving us a platform to share and discover deals online. -- KillerStartups.com
San Francisco, CA, United States (PRWEB) October 18, 2012
Bizspeaking.com is the Pinterest for deals. Since its beta launch just a few months ago, Bizspeaking has been making waves in the social media space. Users consider it to be a Facebook-like site focused on things can be bought and sold. In a way, it's like an amalgamation of Reddit and Facebook where whenever the deal is shared or viewed, it instantly grows in popularity so users can see what the most popular deals are before even having to follow anyone. Jerry Ji, founder of Bizspeaking, is proud to announce the actual launch of Bizspeaking this week when it is finally made available to the public.
Bizspeaking.com is rapidly gaining popularity. Its beta launch attracted thousands of active users before it underwent any significant media coverage. According to Alexa -- a site which gauges other website's popularity based on complex web analytics -- Bizspeaking.com recently ranked at a 9,886 in US. 9,886 might not seem like a significant number to the untrained eye. What it means is that out of all of the billions of websites in the world, only 9,885 of them are more popular than Bizspeaking.com in the United States. That's quite an accomplishment for a relatively young site.
With Hallowe'en and the holidays right around the corner, consumers can use Bizspeaking in a number of different ways to start the holiday season off right. Searching online and getting the same results for 'Hallowe'en costumes' or 'ideal Christmas gifts' and seeing the same 10 results on Google's front page can quickly get irritating. This is where Bizspeaking comes in. Customers can go to Bizspeaking.com to find new and unusual websites where other people have found interesting Hallowe'en items as well as gifts for their family and friends. Or perhaps a customer finds a really neat Hallowe'en site with some really great deals and wants a place to share their find. Bizspeaking is the place to go.
Anyone who has ever shopped online understands how much of a pain it can be to find good deals. With Bizspeaking, customers no longer have to hunt down good deals on their own; there are already thousands of users on Bizspeaking who can help anyone find a great deal on whatever they need.
Bizspeaking will also be launching a mobile app in the near future for customers to use on the go, anywhere in the world.
About Bizspeaking.com and Jerry Ji: Bizspeaking.com was designed and developed entirely by Jerry Ji in his spare time, and with no outside funding. He is a man with a huge dream: that one day, no matter what part of the world someone happens to be in, people around the globe will come together and help others find great deals, and millions of people will thank them. It is a dream that is quickly becoming a reality.