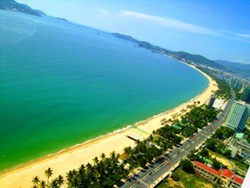 Not only does it supply cheap tours but it also brings customers with the best services and greatest journeys.
(PRWEB) October 17, 2012
With the aim of introducing Nha Trang - Vietnam to international friends, Smile Travel Vietnam has recently launched many special programs that offer cheap tours to this beautiful city. With just a small amount of money, tourists now can visit the paradise of relaxing with Smile Travel Vietnam, the leading travel agency in Vietnam. Indeed, there are a lot of different package tours for tourists to choose. The new launch of VIP Tours in Nha Trang is expected to bring people a great experience in their lifetime. The gold time for booking lasts from October to the end of December this year. Therefore, reaching Nha Trang is not dream any longer.
Being the most famous resort-town in Vietnam, Nha Trang attracts both domestic and international tourists due to its stunning beaches, the urban atmosphere of a young city, scuba diving center, and delicious traditional foods. Located in Khanh Hoa province, on the South Central Coast of Vietnam, the city dates back to the Cham Empire. Therefore, it is home to the famous Po Nagar Tower built by the Cham Empire. The city has long been said to be a perfect bathing spot with beautiful islands and white sand beaches. In the past, it is recognized as a vacation stop during the war by American soldiers.
Up to now, Nha Trang has consistently been one of the most beautiful bays in the world. The town is 450 km from the North of Saigon and 1200 km from the South of Hanoi. It is notable that Nha Trang covers the area of more than 450 square kilometers comprising 19 small and big islands. From the altitude, the bay looks like an aquamarine stone in the sunshine, surrounded by the long smooth golden sandy beach.
Tourists on the tours can discover the two separate personalities of this city. It has the typical atmosphere of a bustling city in Vietnam. On the other hand, the city looks like a Western resort town when owning a variety of luxurious and elegant hotels, tourist shops, restaurants, and bars. Bordered by mountains, Nha Trang is also indisputably beautiful with the beach tracing a long swoop along the bay dotted with various isles.
The modern sculpture dots the manicured foreshore. The only blight on the horizon is the Hollywood-style sign for the Vinpearl complex – an ugly scar dominating by Hon Tre Island.
The launch of cheap tours is applied for both domestic and international customers. Therefore, it expects to welcome a large number of tourists at the end of 2012. Many other interesting things have been added to attract customers, ranging from scuba diving and island-hopping boat trips to mud bathing. However, the main attraction for most visitors is lounging around on deckchairs at a beachfront bar and drinking cocktails in comfort. Summer is the best time for tourists to enjoy its most enchantment.
This special program also includes tour guide and many other low-cost and high quality services. Accordingly, tourists will get free tickets to take part in entertainment activities here. Known as one of the attractions in Nha Trang, scuba diving and snorkeling are luring more and more foreign tourists from everywhere. It is due to the fact that the bay owns wonderful beaches, hot springs, colorful coral reefs, and diversified kinds of fish. It is also the ideal place for those who are interested in swimming and sunbathing. Not only is it considered as an entertainment paradise, but it also is the unique site for Zen tourism.
There are a variety of high-lights here from such complexes as Vinpearl Land, Hon Tam Resort, and Tri Nguyen Aquarium. Besides, with natural and peaceful beauty, this place is the destination for those who want to get inner peace in their mind. There are many places such as Hon Ba, Suoi Do, Ba Ho, and Van Phong Bay, which can help tourists escape from the stress and noise of the daily life.
Besides, cheap tours within this special program will bring customers a chance to discover the untouched land and get the unique sets of photos for themselves. As for people who love taking photos, Nha Trang is also the great place since its picturesque mountain, primary forest, and heavenly water fall. Especially, tourists once coming here will never forget its special cuisine art. There are various dishes made from sea foods after traditional recipes. Nha Trang has famous for its flavor fish sauce for ages. It is sure that tourists will be amazed at many specialties that Nha Trang has.
At the present, there are a lot of Cheap Tours In Nha Trang offered by Smile Travel Vietnam. The aim is to give the image of Nha Trang to more and more international travelers. Not only does it supply cheap tours but it also brings customers with the best services and greatest journeys. For example, just with $35-$140, customers will an interesting trip on Cai River in a full daytime. The sooner customers book tours, the better offers they can get. Booking tour on the website of Smile Travel Vietnam, customers also have chances to get free to make a Vietnam visa and get a discount up to 50% for certain tour package. Get access to the website right now to have more details.