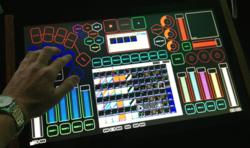 EmulatorX is the most advanced multi-touch software on Earth
Toronto, Ontario (PRWEB) October 17, 2012
SmithsonMartin Inc., is proud to announce the release of their flagship software Emulator for Apple's Mac OSX operating system. "The launch of Emulator X has been long overdue, but we wanted to ensure that our software and hardware systems were fully functional with not just one or two templates, but with the power of our full Modular custom multi-touch software." Said SmithsonMartin Inc. CEO Alan Smithson.
Emulator X represents 4 years of development in multi-touch applications within the music industry. "Emulator X is the most advanced multi-touch software on Earth" Commented CTO, Pablo Martin. "X gives users the ability to have unlimited control over their DAW, DJ, VJ or Lighting software. In fact, we have been approached by several other industries such as pipelines and medical companies to make their software multi-touch."
In addition to releasing Emulator X, SmithsonMartin Inc.'s Emulator will also be featured in an upcoming television ad for a major computer brand as part of the launch of their Windows 8 touch enabled computer line. Emulator is featured in an Elektro Magazine article built-in the back of the new Hyundai Veloster concept car. Emulator has been featured at Intel, Sony, Dell and Absolute Vodka events globally. "It's funny that we are launching our OSX version at the same time Windows 8 will be introduced" Said Smithson. "The game officially changes on October 25th when Microsoft releases Windows 8. Win 8 is fully multi-touch and every PC manufacturer will introduce their touch device in time for the holiday season. What this means to consumers is now there are a plethora of devices to use Emulator with." DOWNLOAD LINK - http://www.smithsonmartin.com/downloads/
Pricing for the new software has also been announced;
Emulator Fixed Templates $99
Emulator Modular (Win/OSX) $499
"We are continuing our introductory rate of $99 for both versions until November 1st in order to get as many people using the beta as possible" commented Mr. Martin. "We will have the full release version complete with templates for Traktor Pro and Ableton in time for a very special promotional
event in November." Mr. Martin would not comment further saying "This event will put Emulator on the map around the globe, but you will have to wait and see for yourself."
SmithsonMartin Inc. recently was showcased at the BPM show in Birmingham where they were nominated for 2 DJ Mag Tech Awards; Best AV Product and Best Controller over $1000. The company will also travel to Sin City this week to showcase Emulator and Emulator X at the LDI Show.
About SmithsonMartin Inc.
Toronto, Canada based SmithsonMartin Inc. is a software developer focused on making multi-touch control applications for music production, DJ, Professional Audio, Professional Lighting, Video, Radio Broadcast and other industry applications. Its flagship product, Emulator, has been used by artists including Grammy Award winner Flo Rida, Two-time Grammy nominee, Morgan Page, Gabry Ponte, Marc Romboy, Jay Frog and others. Emulator was recently used at Disney's ElecTRONica show by SmithsonMartin featured artist Cole (KidDJ). Lighting designer, Michael Meacham from iDesign used Emulator Modular with the Kontrol Surface 1974 to control lighting at Ultrafest & Electric Daisy Carnival 2012.
View feature videos at http://www.YouTube.com/SmithsonMartin
TWITTER: @SmithsonMartin
Contact:
Julie Smithson
Public Relations
SmithsonMartin Inc.
1-416-219-8749
julie (at) smithsonmartin (dot) com