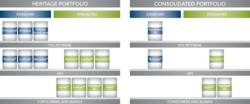 Frankfurt, Germany (PRWEB UK) 16 October 2012
Styrolution, the global leader in styrenics, today announced measures to optimize its product portfolio. The company's current portfolio is comprised of key styrenic assets inherited from its heritage companies, BASF SE and INEOS Industries. In order to offer customers a clear choice in product solutions and to reinforce its market position by focusing on core products, Styrolution has made a strategic decision to reclassify and harmonize product ranges into a unified product portfolio.
Standard and Specialty products: understanding customers' unique requirements
With over 80 years of experience in styrenics, Styrolution has developed two business models to address its customers' distinctive requirements, grouping its portfolio offering into two categories: Styrolution Specialty and Styrolution Standard products. The Styrolution Specialty product range consists of clear and opaque copolymers and specialty acrylonitrile butadiene styrene (ABS) grades. Characterized by a high level of product customization and innovation, Styrolution Specialty products are known for their unique properties developed for specific market applications, such as high-performance, pre-colored solutions. Styrolution Standard products are commodities like styrene monomer, polystyrene and standard ABS. These are typically robust and highly versatile workhorse grades for which customers expect competitive pricing and consistent quality with the reliability and supply efficiency of a global and regional supplier.
Harmonizing brand names
Since the start of the joint venture one year ago, Styrolution has offered grades marketed under various brand names inherited from its pedigree companies. Building on the strengths of its heritage portfolios, Styrolution will harmonize brand names for selected product lines. The following changes to brand names will become effective January 1, 2013:

All polystyrene products are now marketed under the new brand name Styrolution® PS, replacing the former Polystyrol and Empera® brands
All Standard ABS products will be marketed under the brand name Terluran®
All Specialty ABS products will be marketed under the brand name Novodur®, replacing the former Terluran and Lustran® specialty brands
All SAN products, will be marketed under the brand name Luran®, replacing the former Lustran SAN brands
The ABS and polyamide-based thermoplastic polymer blends, Terblend® N and Triax®, will be consolidated and marketed under the brand name Terblend N
Branding for the remaining specialty copolymers and blends will remain unchanged. Furthermore there will be no changes to the product grade nomenclature, with the exception of polystyrene in the Europe, Middle East and Africa and Mexico.
"Optimizing our portfolio by harmonizing branding along the lines of our standard and specialty business models allows Styrolution to clearly communicate both function and value to customers," says Alexander Glück, senior vice president global strategy, R&D and procurement at Styrolution. "With the breadth of our combined technology and industry knowhow, we are confident we will continue to offer the quality, reliability and innovation Styrolution's customers have come to expect."
Note: a print-quality image is available for download in the newsroom at http://www.styrolution.com
ABOUT STYROLUTION
Styrolution is the leading global styrenics supplier with a focus on styrene monomer, polystyrene, styrenic specialties, and ABS. As a joint venture of BASF and INEOS, Styrolution combines the key styrenic assets of two of the largest chemical companies in the world, with world-class production facilities, complementary competencies and portfolios, and more than 80 years of experience. Styrolution helps its customers succeed by offering the best possible solution, designed to give them a competitive edge in their markets. The company provides styrenic applications for many everyday products across a broad range of industries, including automotive, electrical/electronics, building and construction, household appliances, toys/sports/leisure, packaging, healthcare and diagnostics. In 2011, pro forma sales were at 6.6 billion euros, resulting in an EBITDA before special items of 317 million euros. Styrolution employs about 3,400 people and operates 17 production sites in ten countries.
For further information please visit http://www.styrolution.com.
Styrolution, Terluran, Terblend and Luran are registered trademarks of Styrolution GmbH. Novodur, Lustran and Triax are registered trademarks of Styrolution (ABS) Jersey Ltd.
The data and information contained in this document are presented in good faith and believed to be reliable, but shall not be part of the terms and conditions of sale of any Styrolution products. As many factors can affect product application and performance, each Styrolution customer must determine for itself, by conducting appropriate tests or other methods, whether a Styrolution product is suitable for their needs. STYROLUTION MAKES NO WRITTEN, ORAL, EXPRESS OR IMPLIED WARRANTY REGARDING THE PRODUCTS DESCRIBED HEREIN, THE RESULTS TO BE OBTAINED FROM THEIR USE, OR THE ACCURACY OR USE OF THE INFORMATION AND RECOMMENDATIONS CONTAINED HEREIN. STYROLUTION SPECIFICALLY DISCLAIMS THE WARRANTIES OF MERCHANTABILITY AND FITNESS FOR A PARTICULAR PURPOSE.