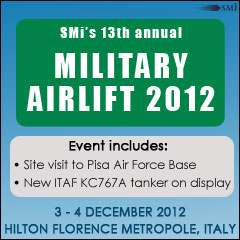 Europe's largest bespoke Military Airlift conference
London (PRWEB UK) 16 October 2012
Don't miss SMi's Military Airlift 2012 conference - Europe's largest bespoke Military Airlift conference taking place in Florence, Italy on the 3rd-4th December 2012.
Now in its 13th year, Military Airlift 2012 will feature a new speaker line-up from leading nations and key players from within the airlift community and hosts the highest-level representation from across NATO member states and NATO commands, year-on-year.
Speaker highlights include:

Brigadier General Aurelio Colagrande, Commander, 46th Air Brigade, Italian Air Force
Colonel Giorgio Seravalle, Chief of Air Operations, Air Mobility Command, Italian Air Force
Colonel Bas Pellemans, Commander, Royal Netherlands Air Force
Colonel Robin Schultze, Chief En Route Medical Care Division, Air Mobility Command, USAF
Lieutenant Colonel Albert Vietje, ISAF Strategic Flight Coordination Centre, NATO
To view the full speaker line-up visit http://www.smi-online.co.uk/militaryairlift32.asp
The conference also features:
An Exclusive Site Visit To Pisa Air Force Base
The Italian Air Force Chief of Air Staff and Air Mobility Commander have kindly arranged a display of the new KC767A platform at Pisa AFB to give our delegates a complete and exclusive overview of Italian Air Force transport and air refueling capabilities.
The visit will also include displays of the C130J and C27J aircraft, and in addition, delegates are invited to visit the ITAF National Training Center and the C130J/C27J simulators at Pisa.
To complement this, Brigadier General Aurelio Colagrande, Commander of the ITAF 46th Air Brigade will be delivering a keynote presentation at the conference. Our positioning in Italy in 2012 is in keeping with our commitment to provide our delegates with the best possible experience in the most relevant locations each year.
The site visit is free to attend for those registered onto the conference however places are limited so book your place today.
To register and to download the latest conference programme please visit: http://www.smi-online.co.uk/militaryairlift32.asp
Contact Teri Arri for further details: +44 (0) 20 7827 6162 / tarri (at) smi-online (dot) co (dot) uk
Military Airlift is just one of the many conferences that are a part of the SMi Group portfolio.
About SMi Group
The SMi Group is a highly Professional, Independent and Global event producing company that specialises in B2B Conferences, Workshops, Masterclasses and online Communities. Our aim is to provide you with the highest quality events in Defence, Security, Energy, Utilities, Finance and Pharmaceutical sectors, which are timely, relevant and important to you and your company!
We are Experts in knowing Experts and have been bringing you this Expertise since 1993! For more information, visit http://www.smi-online.co.uk