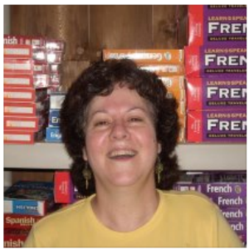 Learning a foreign language is a great way to learn about other cultures as well
Atlanta, GA. (PRWEB) October 18, 2012
Just like any other parent, Cindy Shapiro Tracy wanted her children to have the best, especially when it came to education. After discovering that foreign language products for her children were quite cumbersome to find, she decided to established World Of Reading, Ltd. in 1989, better known as WOR.com, a successful online foreign language resource store.
A linguist at heart, Tracy learned French and Spanish from an early age. She has a BA in French and Spanish, and an MBA in international finance. Over the years, the North Carolina native has added German, Dutch, Hebrew and Russian to her list of spoken languages.
"There are lots of benefits to learning a foreign language at an early age", said Tracy. "Various studies have proven this."
Studies have demonstrated that not only does second language learning benefit a student's linguistic abilities, it also has a positive affect on their cognitive and creative abilities as well.
A study carried out in Harwich, Massachusetts, in 2007, revealed that students who studied a foreign language in an articulated sequence outperformed those who did not on the Massachusetts Comprehensive Assessment System (MCAS) test after two to three years. After seven to eight years, the performance was comprehensive. Those who did not study a foreign language were outperformed in every single MCAS subtest.
Another study conducted at the Cornell Language Acquisition Lab (CLAL), revealed that children who learned a second language were able to maintain attention despite the presence of distraction better than children who know only one language.
"Learning a foreign language is a great way to learn about other cultures as well", Tracy pointed out. "You get to see things from different perspectives, easily and confidently interact with others."
WOR.com displays hundreds of quality foreign language books, CDs, CD-ROMS, DVDs, software and games. Tracy tries every product before placing on the virtual shelves of her store. Her dedication to sourcing and providing only quality language learning and teaching tools has made WOR.com a reputable name among language educators from across the globe.
"A true gem for finding high quality and unique foreign language products that are student approved," reads a testimonial by Eileen M. Angelini, Ph.D., Professor of French, Canisius College on WOR.com's testimonial page.
For over two decades, the store has been a source of foreign language products for individuals, parents, teachers, librarians, schools, companies and even government agencies like the Defense Language Institute in the U.S. and the Canadian Foreign Service in Canada.
WOR.com currently uses the InstanteStore ecommerce solution for her online store. Aside from running WOR.com, Tracy also takes part in language work shops at schools and universities.
She also promotes her products at exhibitions such as the Florida Foreign Language Association (FFLA) conference in St. Augustine, Florida (October 18-20, 2012); the GA TESOL conference in Atlanta, Georgia (October 26-27, 2012); the Wisconsin Foreign Language Teachers Association (WAFLT) in Appleton, Wisconsi (November 1-2, 2012) and finally the American Association for Teachers of Foreign Languages (ACTFL) in Philadelphia, Pennsylvania (November 16-18, 2012).
For more information about foreign language products and exhibition schedules, please visit http://www.wor.com.