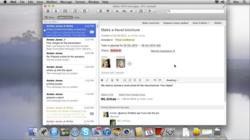 "With the Apple Mail add-in and the previously introduced Outlook add-in, email is transformed into a truly innovative and revolutionary collaboration tool by which important information is no longer in danger of getting lost,"said Andrew Filev, Wrike CEO
Campbell, CA (PRWEB) October 16, 2012
Wrike, a leading provider of online project management software, today unveiled an Apple Mail add-in that extends the power of social task management and collaboration into Mac users' email inboxes.
With this release, Wrike becomes the first project collaboration platform integrating with Apple Mail. Wrike's unique add-in for MacOS 10.7 and 10.8 enables live, interactive email-based collaboration in heterogeneous office environments, regardless of the platform being used. Right from their inboxes, users can assign and schedule tasks, post live comments, view updates in the activity stream, and attach files without needing to manually copy info from e-mails or to request status updates in additional messages.
Several months ago, Wrike released a similar add-in for Outlook on Windows. Now Wrike users will be able to see each other's updates in the web browser, Outlook and Apple Mail, staying connected in one working environment, regardless of the platforms they use. The Apple Mail add-in instantly syncs with Wrike's project management and collaboration app, saving workers hours spent on updating each other on project statuses and hunting through hundreds of e-mail messages for the latest versions and important information.
With every update, Apple Mail and Outlook users see the same live task view float up in their inboxes, with all details accumulated in one place, while they also instantly appear in the Wrike workspace.
"E-mail may be based on decades-old technology, but that doesn't mean that it's outlived its usefulness in today's increasingly dynamic business communication environment," said Andrew Filev, Wrike CEO.
"You want your message to be received, regardless of the platform your co-workers use," Filev said. "Wrike's e-mail add-ins bring real-time threaded messages to people's favorite e-mail clients from the time they first turn on their computer each morning throughout the rest of the day. They get the benefits of today's latest technology without having to change their familiar workday habits."
Wrike's project management solution is available in free and paid subscription plans. The Apple Mail add-in is available to each of the company's existing paid users, including such global companies as Kraft Foods, Adobe, EMC, Ecco and Stanford University.
About Wrike
Wrike is an award-winning provider of social project management and collaboration software that helps both co-located and distributed teams get things done together in real time. Wrike's product vision is based on the innovative "work graph" model, connecting all work in one central hub that is comfortable to manage and navigate. Adopting the features of the "social graph" to the project collaboration space, Wrike allows users to bring together as many projects as they need and work on them in a scalable environment.
Wrike is led by CEO Andrew Filev, a seasoned software entrepreneur, product manager and project manager who launched his first software company at the age of 18 and quickly grew it from a startup into a thriving international business. As more and more businesses trust Wrike for collaborating in the cloud, the company shows stable, triple-digit growth year-to-year. Wrike's customer base is notable for its wide international outreach and famous brands on board, including ECCO, Deloitte, Adobe, EMC, Stanford University and more.
Wrike is a trademark of Wrike, Inc. All other product names are trademarks or registered trademarks of their respective holders.