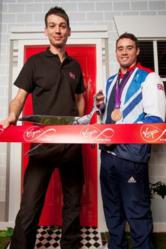 By creating these new jobs, we hope to give young people an important opportunity to get themselves on to the employment ladder.
London, UK (PRWEB UK) 16 October 2012
Virgin Media has today announced it will create approximately 200 new jobs for young apprentices with the opening of a new regional headquarters in the West Midlands. The site in east Birmingham will be the new home for Virgin Media's Midlands operations and is the result of a multi-million pound investment to create a centre of excellence in customer service operations.
Creating a hub of opportunity in the region, the new site at Eagle Court will feature Virgin Media's Apprentice Training Centre. Around 700 young people have so far gained invaluable tuition and career development in Virgin Media's government-championed national apprenticeship scheme, which will shortly recruit a further 200 new apprentices. The scheme offers placements through a number of exciting roles, including field technicians, planners and network engineers, with opportunities to work all over the UK. The immensely popular programme gives apprentices the chance to get comprehensive training in the latest in digital home entertainment and telecommunications, whilst working towards a nationally-recognised qualification in ICT*.
Together with the Apprentice Training Centre, Eagle Court will also become home to Virgin Media's Advanced Engineering and Technology Lab, a place where the company's engineering teams test and explore future technology. Having pioneered numerous technologies over the years, such as launching the UK's first residential broadband and TV on demand services, Virgin Media will be using the centre to trial cutting-edge advancements ahead of releasing them more widely to customers across the country.
Maurice Daw, executive director of access at Virgin Media, said: "By creating these new jobs, we hope to give young people an important opportunity to get themselves on to the employment ladder. We are very proud of our Apprentice Programme and have had huge success to date and with the digital media industry growing at such a rapid rate, we hope these new jobs will positively contribute to the region and wider UK economy."
John Hemming, member of parliament for Birmingham Yardley, said "I am delighted to see Virgin Media investing further in the West Midlands, particularly within my constituency of Birmingham Yardley which will see new jobs created for local people."
Prior to the opening of its offices at Eagle Court, Virgin Media had a number of sites spread around the region. Virgin Media has been working to move everyone to a new single base of operations, catering for 1,000 employees and covering a range of roles including customer care, field sales, local IT, field operations as well as network planners. Eagle Court's bespoke facilities have been designed to improve collaboration and working practices, as well as creating a colourful, fun place to work.
To mark the opening of the new office, staff at Eagle Court will be joined by local Olympic gymnast Kristian Thomas, who also took the opportunity to congratulate some of the recent graduates from Virgin Media's apprentice programme.
For more information on how to apply for a Virgin Media apprenticeship please visit: http://careers.virginmedia.com/apprenticeship/
Notes to Editors

The Qualification and Credit Framework will be awarding certificates in ICT (Information and Communications Technology) Professional Competency.
The new Virgin Media Eagle Court facility can be found at: Eagle Court, Coventry Road, Sheldon, Birmingham B26 3RZ
About Virgin Media
Virgin Media is the first provider of all four broadband, TV, mobile phone and home phone services in the UK.
The company's cable network – the result of a multi-billion pound private investment – delivers ultrafast broadband connections to over half of all UK homes, with speeds of up to 100Mb, and is being expanded to reach thousands more people across the country.
Virgin Media has developed the most advanced interactive television service, bringing together broadcast TV, thousands of hours of on demand programming and the best of the web in a single set-top box powered by TiVo. The company was the first to offer HD TV and 3D on demand to millions of UK households.
Virgin Media also operates the most popular virtual mobile network in the UK which, when launched, was the world's first such mobile phone service. It is also one of the largest fixed-line home phone providers in the country.