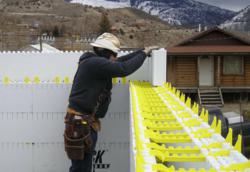 "Quad-Lock products and expertise enable Charcon to offer its clients a superior structural frame as part of its Integrated Solutions, constructing buildings that are more efficient to build, as well as operate." Says Jack Kennedy of Charcon CS
London, UK (PRWEB UK) 17 October 2012
Quad-Lock and Charcon Construction Solutions have signed an exclusive distribution agreement to offer a highly sustainable and energy efficient Insulated Concrete Formwork (ICF) building envelope solution for the UK construction industry. The agreement will provide a turn-key service of design, construction and support packages for superior building envelopes that surpass current and impending building regulations, and are cost-effective not only during construction, but over the life-time of a building due to significantly reduced maintenance and energy requirements.
"Quad-Lock products and expertise enable Charcon to offer its clients a superior structural frame as part of its Integrated Solutions, constructing buildings that are more efficient to build, as well as operate." Says Jack Kennedy of Charcon CS.
Quad-Lock's thermal and air tight properties ensure outstanding energy performance making the system economical in achieving the Code for Sustainable Homes, BREEAM, Building Regulations Part L and other industry requirements. It also delivers remarkable Carbon Performance over the building's life-cycle in terms of CO2 reduction per pound spent.
Additional benefits include:

Construction costs are reduced due to the high speed of construction, shortened build programs, providing saving in labour, machinery and ancillary costs
The completed building offers an excellent living environment for occupants. Through exceptional thermal and acoustic insulation, low allergen levels (due to air tightness) and inert properties of the building materials, the building feels quiet, comfortable and warm even prior to furnishing
As a monolithic concrete structure, Quad-Lock provides best in industry fire safety performance, with a superior resistance to natural forces
The "As-Built" Quad-Lock building will typically outperform the "As-Designed" requirements
Quad-Lock products are infinitely versatile and can easily be shaped to form design elements of modern buildings - openings, corners, angles, curves and arches
Quad-Lock is an established ICF supplier for over 15 years, offering a concrete shuttering ICF system used to build walls, floors and roofs. The German-engineered system provides a complete building envelope of high thermal efficiency, strength, ease-of-use and versatility.
Charcon is a division of Aggregate Industries UK Ltd, a part of Holcim Plc, the world's leading supplier of cement and aggregates with extensive distribution and coverage of the UK market.
To find out more, visit http://www.quadlock.co.uk or http://www.charconcs.com