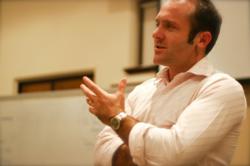 Sex, early in a relationship is usually a recipe for disaster.
Canberra, Australia (PRWEB) October 17, 2012
A controversial new book on dating and relationships continues to be a conversation starter on many social media sites. How to Get The Man of Your Dreams by relationships expert Jonathan Doyle suggests that many, if not most young women, are setting themselves up for failure when it comes to relationships.
In the latest video posted on the book's main website Doyle appears in person arguing that large numbers of young women completely fail to realise that young men rarely value relationships where sex is offered early in the dating process.
Drawing on his post-graduate work in Marriage and Family Studies he quotes St. Augustine's maxim that "We esteem but lightly what we gain too easily." He continues, "It's a pretty straight forward case of girls assuming that giving a guy sex early in the relationship will be a valid strategy for relationship success where time and time again it leads to relationship failure in the short to medium term."
The book is based both on Doyle's post graduate programs in both education and marriage studies and also upon a live seminar program that he delivered over several years to tens of thousands of young women around the world in various educational settings.
He comments, "The risk is that you are seen as some stereotypical white male telling women to behave. I am just not doing that. My experience was one of meeting so many young women who were experiencing toxic relationships and eventually I began to investigate and then highlight some of their dominant relationships assumptions."
Doyle's goal is that young women reading the book will find some resonance with their own experience or with that of their friends and also some strategies for creating more healthy relationships going forward.
Doyle states that it has been interesting to note that many times those buying the books have been men. Doyle states, "Often it is a father wanting a copy to share with his daughter but it also often young men wanting to better understand how they can also make different choices to experience better relationships with the women in their lives."