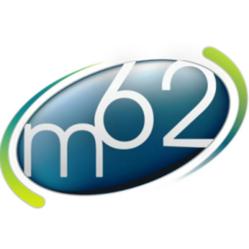 We really think this will change the future of presenting
Liverpool, UK (PRWEB) October 17, 2012
m62 Successfully Holds First Webinar Using Breakthrough New Technology
m62 visualcommunications, the global leader in presentation effectiveness, has held the first webinar of its kind in displaying the presenter in front of his slides – as it is streamed live.
The webinar was streamed on Thursday 11th October from m62's Liverpool office. The presentation was delivered by m62 CEO Nick Oulton, and a live video of him presenting his slides was broadcast to attendees.
The webinar used SightDeck, the latest in presentation technology, to record and transmit the visuals – feeding the stream of both slides and presenter to the audience. The content of the webinar covered how and why organisations should record and share business presentations to viewers around the world, and the best practices concerned with this.
m62's new service, stream62, uses this technology and provides a platform for presenters to stream their content live to audiences around the world. This could be a single audience for a setting such as a one-on-one sales presentation, or a broadcast to thousands around the globe, depending on presenter requirements.
Nick Oulton commented:
"We're so excited to have delivered the first ever webinar streaming the presenter in front of his slides – it's such breakthrough technology and we're honoured to be leading the way! Initial statistics have already shown that engagement levels are significantly higher than traditional webinars that just display narrated slides – every single one of our attendees on Thursday remained till the end of the webinar.
"We really think this will change the future of presenting – and we're looking forward to what we can do next."
m62 has produced over 10,000 presentations for clients worldwide, including blue-chip brands such as Siemens, Microsoft and HP. m62 offers a range of services from pitch support and presentation skills training to free PowerPoint templates.
For more information about m62 visualcommunications, or to watch a recording of the view62 webinar, please call +44 (0)151 259 6262 or visit m62.net.