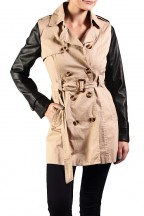 Los Angeles, CA (PRWEB) October 16, 2012
Fall fashion is in full swing, and the transition from summer to cooler weather has been a fast one. Follow every breakout trend from the runways this season with the fall 2012 selection of wholesale leggings, sweater, jackets and more from LA Wholesale Outlet.
The new fall collection at LA Wholesale Outlet features all of the plaid, graphic prints and off-beat combinations that were ruling fall 2012 runways. Consumers can shop from hundreds of wholesale leggings, jackets and sweaters that are on-trend and high quality.
"What makes us different? We care about offering our customers top-quality fall apparel that reflects the latest trends and fashions. We continually update our inventory with wholesale women's clothing and accessories to match the demands of almost any consumer-base," said the president of LA Wholesale Outlet.
At LA Wholesale Outlet, new fashions are added on a regular basis. The outlet works closely with manufacturers and importers throughout Los Angeles, which make it easy for them to find the latest fashion trends at deeply discounted prices.
The new selection of wholesale sweaters, leggings and jackets at LA Wholesale Outlet are designed to suit a wide variety of styles while still showcasing the best this season has to offer. With an inventory that is always up-to-date, it's not difficult to satisfy a wide range of clientele with their wholesale women's clothing.
About LA Wholesale Outlet:
As the leading online wholesale clothing store for distributing discounted women's clothes, LA Wholesale Outlet carries top quality fashion apparel and accessories from hundreds of manufacturers and importers in Los Angeles. Season after season, LA Wholesale Outlet receives large volumes of over-productions of many brands in various dimensions including junior, missy and plus sizes. They sell these wholesale women's clothing items at way below the standard wholesale prices so customers can enjoy great savings on a range of products including wholesale jackets, leggings, sweaters and more.