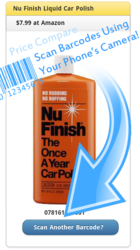 The app offers real time coupons and daily deals
Chicago, IL (PRWEB) October 16, 2012
The Coupons App prepares for Black Friday with coupons that can be used as power shoppers move from store to store on this most important shopping day of the year. Black Friday has become a holiday tradition and is the official kick off to the Christmas season. Each year, millions of shoppers push the turkey away from the table on Thanksgiving and head out to the stores for the best bargains of the season. Imagine having a new and powerful tool this year right on a mobile device. For the 10 million users that already downloaded it, The Coupons App does precisely that.
This Black Friday, the Coupons App will be featuring coupons from local neighborhood stores, malls and department stores. As shoppers move from store to store they will be able to check their phones and pull up the latest coupons adding even more savings to the already discounted prices. Best of all they will be able to share those coupons with family and friends via text or email making Black Friday a truly family affair.
The Coupons App is a free app available for the iPhone, iPad and Android that has been downloaded over 10 million times since 2008. The innovative app is very simple to use with coupons appearing on a user's mobile device that can then be scanned in any store. The coupons featured on the app even have bar codes so shoppers never have to worry about the coupons being denied. The coupons on the app are updated on a daily basis and are never outdated.
Those who have downloaded The Coupons App are giving it rave reviews and describing it with words like "awesome" and "amazing." Most just say, "This app is awesome!" After Black Friday the developers of the app can expect many more to be saying that very same thing and saying it while wrapping those perfect Christmas gifts they bought using a Coupons App coupon.
ABOUT THE COUPONS APP
The Coupons App offers users coupons for their favorite stores, restaurants and gas stations. Since it was released in 2008, over 10 million smart device users have downloaded this useful app and are using the coupons offered on it at retail outlets everywhere. The app offers real time coupons and daily deals, location-based gas price updates, a handy built-in barcode scanner, the ability to share coupons via texts and emails, a voice search option and much more. The Coupons App features coupons that are updated daily and is available for download to the iPhone, iPad and Android. Visit http://www.thecouponsapp.com