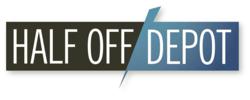 Atlanta, GA (PRWEB) October 17, 2012
Half Off Depot has been selected as a venture spotlight presenter at the 2012 Venture Atlanta conference, one of the largest technology investor events in the Southeast. Entering its 12th year, Venture Atlanta has assisted in helping Georgia technology companies raise nearly $1 billion in capital.
Half Off Depot is one of the 20 venture spotlight companies chosen that reflect a wide range of technologies and highlight the innovation of Georgia businesses.
"Venture Atlanta is the premier investor showcase in one of the top markets for developing and growing marketing technology companies," said Brian Conley, CEO of Half Off Depot. "We are excited to present how Half Off Depot technology is helping local merchants reach consumers through online marketing."
Half Off Depot provides local merchants an easy to use, cost effective, and risk-free method to market to consumers online. The Half Off Depot patent pending Automated Internet Marketing engine is specifically designed to engage, convert, and retain customers by targeting them with compelling online offers across advertising, email, search, and social media channels.
Lance Weatherby, COO of Half Off Depot, will be presenting at the conference.
About Half Off Depot
Half Off Depot provides online customer acquisition programs for local merchants. The company's innovative marketing platform enables merchants to attract and retain new customers while offering compelling value to consumers. Today, the company helps progressive local merchants in Atlanta, Athens, Charlotte, Charleston, Columbia, Knoxville, Nashville, Orlando, and Tampa acquire customers online. Launched in April 2008 and based in Atlanta, Half Off Depot is funded by Noro-Moseley Partners, BLH Venture Partners, and Linch Capital. For more information, visit http://www.halfoffdepot.com.
About Venture Atlanta
Venture Atlanta, Georgia's technology innovation event, is where the state's best technology innovators meet the country's top-tier investors. As the state's largest investor showcase, Venture Atlanta connects local entrepreneurs with venture capitalists, bankers, angel investors and others who can help them raise the capital they need to grow their businesses. The annual non-profit event is a collaboration of three leading Georgia business organizations: Atlanta CEO Council, Metro Atlanta Chamber and the Technology Association of Georgia (TAG). For more information, visit http://www.ventureatlanta.org.